This Beautiful Video Captures the Power of Art in Mexico's Protests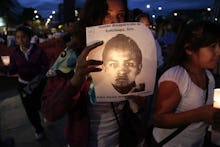 When tens of thousands of people take to the streets to air their grievances, one of the first tendencies is to unite around a symbol. In Hong Kong's recent democracy protests, a yellow umbrella emerged as the demonstration's unifying banner and quickly became an object of Chinese censorship. Occupy Wall Street used the Guy Fawkes mask to bring a sense of coherence and unity to the movement.
But in the recent protests in Mexico, that one symbol is actually many: powerful illustrations of the 43 missing students from the the Ayotzinapa Normal School in Guerrero state who went missing in September.
In Spanish and with song lyrics, the video opens with the words, "We are all Ayotzinapa" (#TodosSomosAyotzinapa). Artists from Mexico and across the world contributed their portraits of the missing students. "Where is José Luis Luna Torres," one read. A painting of Torres described him as a 20-year-old student from Amilcingo.
Along with each illustration, the song lyrics humanize the staggering numbers. "Where is my son? Where is my brother? Where is my friend?"
This is the question many Mexicans are asking. On Wednesday, relatives of the missing students journeyed to Mexico City to meet President Enrique Peña Nieto. The meeting, critics were quick to observe, came more than a month after the disappearances. Many Mexicans are wary of collusion between local officials and members of a criminal gang.
"We came away with the same news — that the state is doing everything it can to find them. But we are still empty-handed," Felipe de la Cruz Sandoval, the father of one of the missing students, said in a news conference Wednesday after meeting the president, Al Jazeera reported. "We're not going to believe the president's words and the pledges he made until the 43 students are presented to us alive."