In Praise of Tom Menino, America's Most Humble Mayor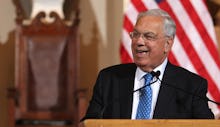 Boston has lost its mascot.
Thomas L. Menino, who served as Boston's longest-serving mayor through the beginning of this year, died Thursday at age 71. He had been battling cancer.
Menino accomplished two remarkable feats since taking office in 1993. In his unprecedented five consecutive terms as Boston's mayor, he came to embody the city he served and knew better than any living person. At the same time, in a political era when Americans often view state and federal government as distant, divisive and ineffectual, Menino set a national example for accessible, inclusive and effective government. And he did so by typifying everything great about the city he loved.
No single fact better encapsulates Menino's mayoralty than the 2009 finding that 57 percent of adult Bostonians, about 250,000 of them, had personally met him — and that was only in term four. Even before I was an adult or lived in Boston proper, I had personally met Menino — in the '90s, at a circus, where of course he was shaking hands and posing for photos.
Menino was a man who effortlessly bridged divides. In a city known for its elite institutions and scientific breakthroughs, he didn't receive a college diploma until he was 45 and serving on the city council. He was the first Italian-American mayor in a city whose politics had long been dominated by the Irish, and he remained at the rudder as Boston became a minority-majority city as an ever-present representative of the city's marginalized voices. Despite all this (and maybe because of it), he cruised to victory by wide margins in all five of his mayoral races.
Menino set a national example for accessible, inclusive and effective government. And he did so by typifying everything great about the city he loved.
Menino was consummately old-school and yet led a remarkably progressive administration. Despite his Roman Catholicism and hardscrabble roots — in high school, he had a Dickensian summer job cleaning furnaces in a roofing plant — this son of Boston's Hyde Park neighborhood was notably progressive: He marched in the city's gay pride parade long before LGBT rights was a bandwagon issue, and he shunned the anti-gay St. Patrick's Day Parade at no small political cost.
Even in with areas he didn't fully understand, like technology, Menino put the city ahead of his own preferences. "I really don't use it much, honestly," he told me in May of the Internet. "You guys in media want to FOIA all my records." In fact, Menino famously banned voice mail in City Hall (he felt it made public servants less responsive to constituents). And yet under Menino, Boston's innovation economy became an engine of prosperity, and the city was named the most innovative in the world. The mayor who avoids the Internet even oversaw the creation of a civic innovation office at city hall — designed to experiment with creative improvements to city services, often using technology — that's become the envy of municipal governments the world over.
Menino will be remembered for his two nicknames: "Mumbles" and the "the Urban Mechanic." He was called Mumbles Menino, because, well, he mumbled. My notes from our May interview are full of one or two-word quotes; I could barely manage to get down a full sentence. His total lack of eloquence was long an object of derision. Go into any schoolyard in Boston, and you'll be able to find your fair share of ruthless impressions. But after decades of tireless service to Boston, it's also become an object of endearment.
He was called the Urban Mechanic because of his nuts-and-bolts approach to city government: He once claimed that, "Visionaries don't get things done." He was the most prolific user of his own constituent services hotline, endlessly calling in potholes and broken streetlamps and checking in to make sure they got fixed. Despite the political drama that would often bubble up on Beacon Hill, his focus was always on improving the city of Boston.
His nicknames don't have the grandiosity of "America's Mayor," the epithet that became attached to former New York Mayor Rudy Guiliani in his post-9/11 glow, but that's because Menino only wanted to be known as Boston's mayor. And this, in some ways, does make him America's mayor: His devotion to his constituents and his city made him a beacon for rising politicians across the country.
Menino's tenure wasn't perfect, most importantly on education. In the early years of his mayoralty, Menino once asked to be judged "harshly" if he didn't turn around Boston's public schools, and almost two decades later, they have a long way to go.
But it was unambiguously a success. That's more than can be said for many of America's higher-profile mayors. Corey Booker has ridden celebrity and charisma into the national spotlight and the Senate, but as he left, Newark elected one of his harshest critics, Ras Baraka, to replace him, and national media are still running headlines like "The Ugly Truth About Corey Booker." Menino's successor, Marty Walsh, who took over in January, will make cracks about the no-voice-mail thing, but he knows he'll be working in Menino's shadow for a good while yet.
Giuliani, too, had higher ambitions from the start. He was a federal prosecutor before he was mayor of New York, and he was eyeing a presidential bid by the time he left office. His heavy-handed approach to security and policing, continued by his immediate successor Michael Bloomberg, have now been rebuked by the election of Bill de Blasio.
It's a shame that Menino only sought the national spotlight after his retirement. Decades of tireless work had taken their toll on his health, and he was hospitalized more than once during his final term. In March, he announced cancer had spread to his liver and lymph nodes. But he released a book, "Mayor for a New America," just two weeks ago. He had begun a national tour to promote it last week when he announced that he was canceling the tour and ending his cancer treatments.
While Giuliani may still have the nickname of "America's Mayor," it's the example of humble Mumbles Menino the country could use at a time when models of good government are too few and far between.