Actual and Definitive Proof That Smoking Weed Makes You a Great Writer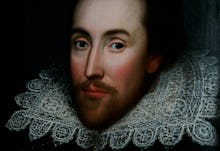 As we all know, the effects of pot are varied, vast and contradictory. It mellows you out, it induces paranoia, it gives you a buzz, lowers inhibitions and transmits that warm and fuzzy feeling its fans know all too well.
But for those pursuing creative endeavors, pot can offer you an extra-special gift: It could help spark abstract thinking, and its effects might help you connect seemingly unrelated ideas. So writers, you're in luck, as your craft thrives off such processes.
We're not saying that smoking pot will necessarily make you a better writer, or that those words you scribble while stoned are definitely brilliant, but we're saying that a little puff here or there might help you realize your potential. And these famous wordsmiths are some compelling proof:
Carl Sagan
Sagan was an established scientist and author who penned hundreds of scientific papers and books, including The Dragons of Eden, Broca's Brain and Pale Blue Dot. But the best of his creativity can be seen in Cosmos: A Personal Voyage, which he cowrote with Ann Druyan and Steven Soter, along with narrating the show. Plenty of present-day stoners love the Cosmos reboot, enough to warrant a parody video.
Sagan's thoughts on pot: Not only did Sagan casually smoke marijuana, but he was also an advocate for legalization. He wrote an essay about his experiences on the drug under the alias "Mr. X," published in the 1971 book Marijuana Reconsidered. He had high praise for weed's effect on his appreciation for art and heightened pleasure during sex.
Zadie Smith
She might only have five novels under her belt, but Smith continues to receive accolades from critics. The young writer has found literary acclaim before the age of 40, especially with her debut White Teeth. 
Smith's thoughts on pot: She jokes about it, saying that there's nothing wrong with a little liking for Mary Jane. Smith isn't a big smoker herself, but recognizes the good vibes it brings people.  
Stephen King 
A master of the horror genre, King has published 55 novels and received various awards. He's behind The Shawshank Redemption, Children of the Corn, The Shining, It and Carrie, along with more than a few adaptations. His work typically steers clear from gore and instead depends on plot twists to really build up suspense. Pro-tip: Smokers who get paranoid probably want to avoid watching a King movie while high. 
King's thoughts on pot: King used to be a pretty heavy cannabis consumer, and in a 1980s interview with High Times, he gave his take on the drug: "I think that marijuana should not only be legal, I think it should be a cottage industry." 
Susan Sontag
Sontag published both nonfiction and fiction while using her medium to advocate for human rights, AIDS awareness and more. While her nonfiction essays on art first brought her attention, Sontag's fiction pushed the boundaries of the craft, such as her experimental short story The Way We Live Now.
Sontag's thoughts on pot: Sontag is credited with saying, "I think marijuana is much better than liquor. I think a society which is addicted to a very destructive and unhealthy drug — namely alcohol — certainly has no right to complain or be sanctimonious or censor the use of a drug which is much less harmful." 
Hunter S. Thompson 
The author of Fear and Loathing in Las Vegas didn't even have to finish high school to become a successful writer. After his stint in the Air Force, he spent a year traveling with the Angels for his book Hell's Angels: The Strange and Terrible Saga of the Outlaw Motorcycle Gangs. Surely he huffed more than just a couple of times while roaming the countryside. 
Thompson's thoughts on pot: Outspoken and fearless, Thompson was upfront about his usage, even proclaiming his love for the drug. His basic staples for life included beer, ice, grapefruit and the ganja. Weed must have helped him hone his creative ideas.
Maya Angelou
Angelou helped pave the way for other minorities in literature. I Know Why the Caged Bird Sings is a necessary read for anyone, as are all her other works, given her talents for books, essays, poetry, plays and more. Angelou recited "In and Out of Time" in Tyler Perry's 2006 Madea's Family Reunion, and her appearance in the comedy pretty much felt like a hallucination. 
Angelou's thoughts on pot: We don't have major evidence that Angelou smoked it up regularly in her later years, but it's reported that she "smoked with abandon" in her younger days. 
William Shakespeare
You know, just the Shakespeare who's responsible for some of the greatest literature ever, like Romeo and Juliet, Hamlet and Macbeth. He also casually created more than 2,200 words in his works, many of which have joined our everyday language. Shakespeare must have been on something when he decided that he was going to expand the lexicon to his liking. 
Shakespeare's thoughts on pot: Nobody ever got to sit down Shakespeare and ask, "So, do you like weed?" But clues in history help support the claim that he did partake in some dope festivities. Between his sonnets that reference a "noted weed" and 17th century pipes with traces of cannabis being uncovered at his former home, it's pretty clear the guy was a stoner. 
Alexandre Dumas 
Dumas is the French author who wrote The Three Musketeers and The Count of Monte Cristo and whose tales have been translated into almost 100 other languages. His work teems with adventure.
Dumas' thoughts on pot: Dumas was a member of a society dedicated to weed, Club des Hachichins. They loved experimenting, especially with hashish. Other high-profile Parisian writers who were part of the group included Théophile Gautier and Charles Baudelaire. The club meetings must have been the 19th century version of the basement scenes in That '70s Show. 
Jennifer Egan
The Brooklyn-based writer has had fiction published in the pages of the New Yorker and Harper's. In 2011, she won both a Pulitzer Prize and the National Book Critics Circle Award for A Visit from the Goon Squad. The novel is unconventional in format, with an entire chapter being told through a Microsoft PowerPoint presentation. 
Egan's thoughts on pot: Egan is very upfront with the roles of drugs and Patti Smith in her youth. In a piece for the Guardian, she talks about climbing onto a rooftop and smoking her first joint. She didn't stop at pot — acid and mushrooms followed soon after. Well, she did grow up in San Francisco, so totally expected. 
Herodotus 
The Father of History, as Cicero dubbed him, was a Greek historian who shaped the historiographic narrative by taking a critical eye to how he collected his sources and info. Daddy of the Past is responsible for Histories, the founding work of history in Western literature. For someone so vital in recording history, apparently some his stories were also debunked as made up. Wonder if it was the weed talking.
Herodotus' thoughts on pot: Herodotus knew what was up. He was the first to reference pot in the Western world, and wrote about Scythians burning some hemp to create a vapor that would get them transported and howling (see: faded). Father of Time must have partaken in the recreational activity, for research in the name of historical accuracy, of course. 
Having writer's block? Smoke a joint. These writers are proof enough that weed will help you achieve creativity nirvana.