The Biggest Threat to Women on the Internet Isn't Creeps — It's Police Incompetence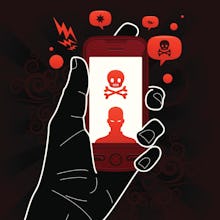 What could possibly make revenge porn worse than it already is? Try the lack of interest from the very authorities that exist to protect us from it.
Following the celebrity nude leaks in August and Jennifer Lawrence's no-shame response, the public is finally starting to see revenge porn for the violation it is: A dangerous form of harassment and a sexual violation. Law enforcement agencies, on the other hand, are woefully unprepared to actually investigate this modern sex crime.
In Canada, a young woman is alleging that her American ex-boyfriend posted nude photos and video of her online, and even sent someone to rape her — but police on both sides of the border aren't doing much to stop him. Her story is part of an all-too-common trend of law enforcement not taking online harassment and sex crimes seriously.
Meet Nicole: In 2013, a Canadian woman, known by the pseudonym "Nicole," learned that her ex-boyfriend allegedly posted an ad on Craigslist pretending to be her and asking for a rape fantasy.
A man in Nicole's city answered the ad, which was allegedly posted by her ex-boyfriend using her email address. "I dunno if you can handle my kink," he wrote to her. "It's a rape fantasy. I really want to leave my door unlocked and have a boy come upstairs, come quietly in my room. Grab my hands, tie me up. I will fight, I will squirm, I will try and cry out, but I must be dominated. In fact, take pics of me. Send them to me. My most vulnerable moments."
This may sound like a sick prank by a jilted ex. But the ex-boyfriend allegedly gave Nicole's address to the man who answered the ad. He went to her address intending to carry out the rape fantasy and found the door unlocked. Nicole's lock was broken, something she claims her ex-boyfriend knew.
Nicole later learned photos and a video she only shared with her ex were posted on revenge porn forums Motherless and MyEx, as well as 4chan and 7chan, among countless other pornographic images of women who may not know their faces and naked bodies are shared there. Fake profiles with Nicole's name and nude photos sprung up on Facebook and dating sites.
It gets worse: Nicole reported the problem several times to police in Canada, and contacted law enforcement in Florida, where her ex lives. Both Canadian and U.S. law enforcement simply didn't take her seriously. After hearing her story, a Canadian officer told her, "This is the age we live in with the Internet, and police get threatened all the time via emails."
When she complained to police in Florida, where her ex lives, an officer told her, "I'm going to give you the same advice that I give to everyone else with this problem: Stop using social media and get rid of your computer."
After speaking with a crown attorney, Canadian police concluded in her file, "There is no criminal offense and no charges could be laid." According to her file, police told Nicole to change her email and stop contact with her ex.
 "I'm going to give you the same advice that I give to everyone else with this problem: Stop using social media and get rid of your computer."
A dangerous failure of enforcement: There are, in fact, laws that would apply in Nicole's case. All of the following are crimes in Canada: coercion to commit sexual assault, criminal harassment and identity fraud. Police could also have investigated Nicole's allegations of domestic abuse by her ex.
Florida has laws against assault, battery, stalking and specifically, "cyberstalking." There are also specific processes that allow law enforcement agencies to work together across borders. Thirteen states have enacted laws against revenge porn since 2013, and Canada just pushed through powerful legislation against "cyberbullying."
After Nicole went public with her story, Florida police and police in Halifax, Nova Scotia, where Nicole lives, finally started to pay attention. Both promised to investigate the allegations thoroughly.
Halifax is the same city that achieved notoriety more than a year ago when teenager Rehtaeh Parsons attempted suicide. She died three days later after her parents took her off life support.
Before her death, Rehtaeh told police several boys raped her at a party, and her peers shared a pornographic image of the alleged rape. She was relentlessly harassed and bullied, but police said they couldn't help her.
As it turns out, they could have helped — they just wouldn't.
More than a year after her death, Rehtaeh's case is now in court, under publication ban. Two young men are facing child pornography charges.
Why should we care? The stories of Nicole and Rehtaeh are not isolated incidents. The Bureau of Justice Statistics says an estimated 850,000 people experienced online stalking in 2006 alone. A 2013 survey by the Cyber Civil Rights Initiative found that 90% of people victimized by revenge porn were female, and data collected between 2000 and 2012 by Working to Halt Online Abuse shows 72.5% of people who reported cyber harassment were female.
...A Palm Springs police officer lumbered up the steps to my hotel room, paused on the outdoor threshold, and began questioning me in a steady clip. I wheeled through the relevant background information: I am a journalist; I live in Los Angeles; sometimes, people don't like what I write about women, relationships or sexuality; this was not the first time that someone had responded to my work by threatening to rape and kill me. The cop anchored his hands on his belt, looked me in the eye, and said, "What is Twitter?"
In Canada and the U.S., lawmakers are slowly passing new legislation to combat revenge porn and so-called "cyberbullying" — but if police won't investigate these crimes thoroughly and don't charge perpetrators, what are these new laws, and existing ones, good for?
According to cyberlaw expert Wayne MacKay, due to online anonymity and the rapid change of technology, these types of crime can be difficult and time-consuming for police to investigate, but they aren't impossible to tackle. "You have to be somewhat creative to use existing [Canadian] criminal code provisions, for example, to apply in a cyber context," he told Mic, "although I think you can."
It may be difficult and it may take time for police to investigate these crimes, but that legwork is becoming increasingly necessary. With cameras at our fingertips, intimate images are now ubiquitous and easier than ever to share online, with or without consent. And the creeps who post revenge porn won't view it as criminal until police start treating it as such.