Sweden Just Took a Stance on the Middle East Conflict that the Western World Has Not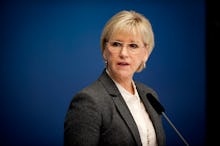 Sweden made waves Thursday by officially recognizing the state of Palestine, something most of its fellow European Union members (as well as the U.S.) won't do.
"It is an important step that confirms the Palestinians' right to self-determination," Swedish Foreign Minister Margot Wallström said, according to Agence France-Presse. "We hope that this will show the way for others."
The reaction: It's a bold move that has predictably inspired praise from Palestinians, ire from Israeli officials and a bit of collar tugging from the U.S.
Palestinian President Mahmoud Abbas called Sweden's move "brave and historic." Israeli Foreign Minister Avigdor Lieberman, on the other hand, took a potshot at the Nordic country, saying that "relations in the Middle East are a lot more complex than the self-assembly furniture of IKEA." Israel also recalled its ambassador to Sweden for "consultations" shortly after the announcement, the AFP said.
"The decision of the Swedish government to recognize a Palestinian state is a deplorable decision which only strengthens extremist elements and Palestinian rejectionism," Lieberman said in a statement. "It is a shame that the Swedish government chose to take this declarative step which causes a lot of harm and offers no advantage."
U.S. officials, according to AFP, called the decision "premature" and asked Sweden not to make the declaration. While President Obama has endorsed the idea of Palestinian statehood, the administration wants to wait until the negotiation process is over to formally recognize it.
Not the only one: While Sweden is one of the most prominent Western countries to recognize Palestine, it's far from the only one: 134 other nations have previously made the same declaration.
It's a list that includes international heavyweights like Russia, China and Brazil along with other European Union members like Poland and Hungary. A resolution upgrading Palestine to "non-member observer state" status was adopted by the United Nations in 2012.
Wallström told reporters that she sees the recognition as a result of the ongoing negotiations rather than an obstacle to them. "We are not picking sides," she said, per AFP. "We're choosing the side of the peace process."