17 #NotARedskin Tweets Every American Needs to See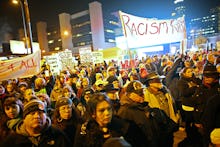 The news: On Oct. 24, the Red Circle Agency partnered with the National Coalition Against Racism in Sports and Media (NCARSM) and uploaded a powerful video statement to YouTube, the Huffington Post reports.
The 30-second clip, titled "No Honor in Racism," illustrates the absurdity of sanctioning the term "redskin" — whether in casual speech or as the name of a multimillion-dollar sports franchise — while slurs like "nigger," "gook" and "kyke" are shunned and censored.
It's an important message in light of recent debates around the appropriation of Native American culture and iconography. But outlining the real-life extent of the damage is just as key to understanding the problem.
Enter #NotARedskin, a hashtag launched on Twitter by Native rapper and activist Frank Waln on Oct. 28.
Native peoples Internet-wide have been using it to illustrate the uniqueness of their individual tribes and nations. In doing so, they've shown decisively that whether someone is Ojibwe, Oglala Lakota, Navajo or anything in between, he or she is anything but this damaging racial slur. Take a look:
Background: One problem with this slur and the commodification of Native culture that it's accompanied is its psychological impact.
For instance, a recent report from the Center for American Progress described how using Natives as mascots can cause "lower self-esteem and mental health" in indigenous adolescents, a group already besieged by disproportionately high rates of poverty, substance abuse and suicide, according to the Washington Post.
Affirming the pride and diversity of Native American identity is key to combating the stereotypes these images perpetuate. Racism's ability to frame nonwhite cultures as monolithic identities — all basically the same, all subject to similar standards and expectations — is an important part of its power.
Therefore, highlighting diversity within these broader identities is an important step toward reclaiming their humanity from forces that would deny it. #NotARedskin is an encouraging development in this process, and it's way past time the rest of society followed suit.