A Track-by-Track Breakdown of What Makes '1989' the Year's Best Pop Album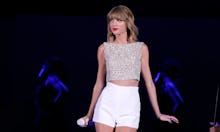 Much ado has been made about Taylor Swift's latest album, 1989, and rightfully so. The fifth release from the country-cum-pop star is not only the year's best pop album, but is also on track to be the only album released in 2014 to go platinum (in its first week, no less). The reason? It's her first 'pop' album, and a perfect representation of what it means to make pop music in 2014.
While it's no longer an understatement to say that Swift could sell a blank track, the album is a brilliantly exact look at trends in pop music today. Here's a track-by-track breakdown of the music that made 1989 and the face of pop in 2014.
1. "Welcome to New York"
The album's most deservedly derided track, "Welcome to New York," becomes much more listenable when you experience it for what it is: an introduction.
As Slate's Carl Wilson points out, it serves more as an opening sequence than a song, with its Robyn and Daft Punk sounds setting the stage for the Nashville-eschewing experience to come. 
2. "Blank Space"
Swift has a well-documented friendship with Lorde, and nowhere is the influence more apparent than on "Blank Space." With a beat that sounds an awful lot like the one from Lorde's "Team," chiming keys in the background and synth-heavy instrumentation, the only difference here is that where Lorde goes for sincerity, Swift is all sarcasm. She's showing a new level of self-awareness about the intense scrutiny surrounding her personal life.
3. "Style"
Despite obviously being about One Direction's Harry Styles, "Style" is one of 1989's darker songs, with an intro that dance and rock legends Giorgio Moroder and Cliff Martinez would be proud of. Like so many other songs on the album, "Style" resolves a moody verse with a cathartic, bubblegum chorus that both reflects the tension described in the lyrics and makes for one hell of an earworm. 
4. "Out of the Woods"
One of the album's standout tracks, "Out of the Woods" manages to marry the '80s sensibilities of Don Henley (lead singer of the Eagles) with the trappings of modern pop (and, of course, The Lion King) to euphoric results.
Swift co-wrote the track with indie-pop all-star Jack Antonoff (fun., Bleachers) and his production, which features massive, Genesis-style drums and heavily layered vocal harmonies, is nothing short of epic. 
5. "All You Had to Do Was Stay"
Most people are comparing "Bad Blood" to Katy Perry due to its subject matter, but "All You Had to Do Was Stay" is the closest thing to Perry on 1989, complete with guitar-driven verses and the occasional foray into falsetto in the chorus.
6. "Shake It Off"
The album's thesis statement, "Shake It Off" is, paradoxically, the track that borrows most heavily from other genres of music while lyrically proclaiming that Swift is more than content just bein' herself.
While the "Mickey" comparisons are undeniable, that "sick" little hi-hat beat (not to mention the "I-I" stutters in the chorus) is straight of the James Brown school of rhythm, or, for a more recent comparison, would sound at home on a Pharrell record. 
7. "I Wish You Would"
"I Wish You Would" is a strong contender for the most '80s-inspired song on the album, with over-the-top drums, synth bursts and a chorus that can only be described as bombastic.
Another Antonoff contribution, "I Wish You Would" could just as easily be a Bleachers song. 
8. "Bad Blood"
While "Bad Blood" is lyrically inspired by Swift's now infamous Mean Girls-quoting feud with Katy Perry, musically it takes a page out of Avril Lavigne's book. Somewhat nasal, half-spoken vocals a la "Girlfriend" are saved from pop-punk-induced embarrassment, though, by a "Hollaback Girl"-esque beat courtesy of Max Martin.
9. "Wildest Dreams"
Swift obviously really dug Ultraviolence, as this song easily could have been written by a Lana Del Rey tribute act. As soon as the pre-chorus builds to, "Say you'll remember me," you can almost hear the chorus of "Young and Beautiful" ("Will you still love me when I'm no longer young and beautiful," similar in both sentiment and melody). Someone get a mash-up together, stat. 
10. "How You Get the Girl"
One of the album's only duds, this one harks back to old-school Taylor Swift, a la "Speak Now" or "The Lucky One," but to less interesting effect thanks to generic lyrics and a forgettable track. This isn't to say, of course, that it still won't get stuck in your head. 
11. "This Love"
Written in the power ballad tradition made so popular during the '80s, "This Love" starts slow and continues to build, imbued with that same sense of melodrama that drove hits for acts like Journey and Def Leppard. In the context of the album's other ballads, though, "This Love" is a bit of a snooze.
12. "I Know Places"
Lorde's influence shows up again on "I Know Places," a dark take on escaping the paparazzi that could easily fit into a Hunger Games soundtrack. It's a bit of a stretch for Swift to go this dark, but the track is saved from clunkerdom by a sing-along chorus that has shades of Lana Del Rey.
13. "Clean"
While Antonoff, Martin and Ryan Tedder have gotten most of the attention for their contributions to 1989, it's this quiet collaboration with Imogen Heap that deserves praise. The closing track for the regular edition of the album, "Clean" is the perfect outro to a collection of songs about chaotic romance and growing pains, finding Swift clean of not just old lovers but an old persona that she has clearly outgrown.
14. "Wonderland"
Swift does her best Rihanna impression here, and, surprisingly, it kind of works. The Alice in Wonderland imagery gets a little clunky, but any awkwardness is overshadowed by a dancefloor-worthy chorus. 
15. "You Are in Love"
With an intro that would make both Bon Iver and Peter Gabriel proud, "You Are In Love" tells the story of Antonoff's relationship with girlfriend Lena Dunham and, ironically, becomes one of the album's most personal songs. It would also make the perfect prom song for any John Hughes movie. 
16. "New Romantics"
One of the albums best tracks, why "New Romantics" was relegated to bonus-track status will forever remain one of life's greatest mysteries. Swift channels "Vogue"-era Madonna as equally as she does Icona Pop and Capital Cities, cementing the album's synthesis of the best of both old and new.