If You Care About Gun Violence, Here's What to Watch on Election Day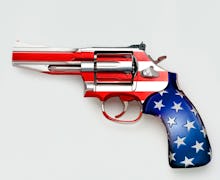 When Congress failed to enact even the most basic new gun control laws in the aftermath of the 2012 Sandy Hook school massacre, the issue went off the public radar. It's understandable. If the slaying of 20 first-graders by a mentally unstable young man with a semi-automatic rifle isn't going to get lawmakers to tighten restrictions, what would?
Money, it turns out, is always a good start.
Dedicated gun control activists, with a large boost from big-money supporters like former New York City Mayor Michael Bloomberg, pivoted from Washington, D.C., toward the states. Since the beginning of 2013, as The Nation reports, eight states have enacted tough new gun laws. Only four have weakened theirs.   
And it will be in the states, be it by ballot measure or referendum, that this midterm cycle finds its most compelling and consequential votes on the future of gun control in America. Here are the three most high-stakes votes to watch on election night:
1. Washington state is voting on dueling ballot measures.
First up in Washington is Initiative 594, the most expensive gun-related ballot measure of the season. If it gets the votes, the law would, as Mother Jones explains, "expand background checks for gun purchases online, at gun shows, or through private transactions, closing the so-called loophole in federal law."
The campaign to pass it has attracted significant contributions and support from around the country. The Bill and Melinda Gates Foundation has boosted the campaign with $1 million in donations. Bloomberg's "Everytown for Gun Safety" group has poured in another $4 million. 
The parents of two of the children slain at Sandy Hook — 6-year-old Dylan Hockley and 7-year-old Daniel Barden — spoke at a recent rally for I-594.
Rather than fight I-594 on the merits, opponents — brought together by the state's "Second Amendment Foundation" — launched their own measure. Initiative 591 would ban all background checks and government gun seizures "unless a federal standard is established." Because there is no chance a "federal standard" is coming anytime soon, passage of I-591 would effectively strike down every meaningful state gun law.
Where they stand: The most recent poll, which was completed on the date of a deadly school shooting in Marysville, a suburb of Seattle, showed 64% approval for the strengthened checks. 
Critics note that the teen who carried out the killings was already too young to buy a gun. He would not have been deterred by any new law on the ballot. But supporters will argue that the message a "Yes" vote sends is almost as important as the particulars of the law.
Gun control activists need a high-profile, election-night win. And with Bloomberg and Gates betting big on Washington, anything less would be a major disappointment.
(Note: If the opposing initiative, I-591, were to pass — polls are calling it a toss-up — the expectation is that issue would likely go to the courts.)
2. Outside groups clash in two Iowa races.
The race to replace retiring Democratic Sen. Tom Harkin has been among the tightest of the cycle. The Des Moines Register estimated the total expenditure on ads — by and for Democrat Bruce Braley and Republican Joni Ernst — exceeded $13 million in the five-week period from Sept. 11 to Oct. 15. 
The NRA steps in: The National Rifle Association has been among the heaviest spenders, according to the Center for Responsive Politics, committing $3,733,244 to defeating Braley, who said after Newtown that he would have opposed a Senate gun control bill because it did not go far enough and was too kind to gun manufacturers, who would have been protected from certain lawsuits if it passed. 
Where exactly does Ernst stand? Here is what she said in 2012: "I believe in the right to defend myself and my family — whether it's from an intruder, or whether it's from the government, should they decide that my rights are no longer important." That statement, delivered at an NRA rally in Iowa, pretty much sums it up.
Under the radar: Perhaps even more intriguing is the wildly expensive fight to flip the state's rural 3rd Congressional District. A Democratic challenger and Republican incumbent Rep. David Young, neither with any name brand outside the state, have attracted nearly $1 million in outside money. 
Americans for Responsible Solutions, the group founded and run by Gabby Giffords, the former Arizona congresswoman who shot in the head during a meeting with constituents on Jan. 8, 2011, is running ads for the Democrat, former state Sen. Staci Appel. Here is one of the most powerful:
In response, the NRA has spent more than $600,000 attacking Appel, often linking her unflatteringly to Bloomberg and his efforts.
3. The NRA sends a message in North Carolina.
Democratic incumbent Sen. Kay Hagan is no gun control crusader. Far from it, as Mother Jones notes, she has "been a strong supporter of gun rights, having voted against bans on assault-style weapons and high-capacity magazines."
So why has the NRA dedicated an extraordinary $4 million to securing her ouster?
Simple: They want to send a message. Hagan voted for the failed post-Sandy Hook background check expansion bill. Known as "Manchin-Toomey," it was a bipartisan — many would say watered-down — response to the mass shooting. The NRA was weak, if only for a moment, but it was taking notes on who could and could not be counted on. Hagan slipped and now, if it has its way, she will pay with her job.
The association's most-watched ad in support of Republican challenger Thom Tillis, repeatedly ties Hagan to "President Obama's extreme gun control agenda." 
Watch the spot right here:
Total spending in the North Carolina race, by the candidates and outside groups like the NRA, has exceeded $100 million, making it the most expensive Senate campaign in American history.
In polls, Ernst had a narrow lead on Braley as Election Day nears. However, Bing gives her a strong chance of winning: The Tar Heel State polls are tight as Election Day approaches, but Bing likes Hagan's chances of hanging on to her job:
The 2014 midterm election cycle comes to an end Tuesday night, but the fight to shape this country's relationship with guns — from the actual legislation to the people who are in a position to shape it — remains very much in the balance.
So if you care about gun violence, learn as much as you can about the arguments being made in these harshly fought campaigns. They might not have the country's attention today, but the advocates are smarter, stronger and better-funded than ever before. The pivotal next round in this fight begins now.
This post has been updated.