The One Simple Way to Increase Donations to Charity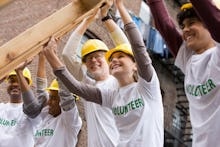 The news: This week, NPR and ProPublica tackled one of the biggest charities in the U.S. head-on, releasing internal documents that paint the American Red Cross as "an organization so consumed with public relations that it hindered the charity's ability to provide disaster services" in the aftermath of Hurricane Sandy.
And a lot of people have become wary of charitable giving. A 2011 study found that more than a quarter of Americans "don't trust" charities. But new research indicates that nonprofits can do something simple to boost waning public confidence in their organizations: promise donations won't go toward funding their overhead.
On Thursday, the journal Science published a study that found people are much more likely to donate if they know their money is going directly to the cause instead of to the charity's operational costs. Among the study's 40,000 participants, those who were informed that their donations would not fund the charity's overhead donated three times as much as those who weren't.
That doesn't mean overhead is automatically bad. As Vox points out, operational costs are a necessary part of running any organization, including charity. Sure, people don't want to see their donations funneled into expensive PR campaigns or lining the CEO's pockets, but charities still need funding for day-to-day costs.
"Ironically, reducing overhead spending has a negative impact on charities' ability to initiate fundraising campaigns, invest in long-term panning and sufficiently support overall infrastructure, which ultimately undermines efforts to serve their causes effectively," the study authors found.
So to keep that money coming in, it's OK for charities to use donations for overhead costs. They just have to be more up-front and transparent in disclosing the details and sensitive toward donors' feelings about how their money is spent.