The U.S. Is Falling Behind Developed Countries in One Shameful Way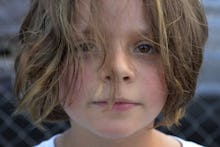 The U.S. might be the richest country in the world, but its wealth is failing one segment of the population: children. One in three children in the U.S. live in poverty.
Let that sink in: This week, UNICEF released a staggering report on global child poverty, and the U.S. is not doing well. The study found that child poverty increased in 34 states since the recession, with a third of American children — 24.2 million — estimated to be living in households with an income below 60% of the national median income in 2008, or $31,000. The largest increases in child poverty rates were in Nevada, Idaho, Hawaii and New Mexico.
When it came to the number of children in developed countries who found themselves newly impoverished in the aftermath of the global recession, a third of them came from the U.S. That means while the U.S. might rank first in terms of overall wealth, it's in 36th place when it comes to child poverty among developed countries:
Other developed countries aren't faring very well, either. UNICEF estimates that 2.6 million children in developed countries became poor since 2008, bringing the total number to 76.5 million. Among the 41 countries that the study analyzed, 23 experienced an increase in child poverty – with the rate in Ireland, Croatia, Latvia, Greece, and Iceland rising by more than 50%.
"Many affluent countries have suffered a 'great leap backwards' in terms of household income, and the impact on children will have long-lasting repercussions for them and their communities," Jeffrey O'Malley, UNICEF's head of Global Policy and Strategy, said in a statement.
"UNICEF research shows that the strength of social protection policies was a decisive factor in poverty prevention. All countries need strong social safety nets to protect children in bad times and in good — and wealthy countries should lead by example, explicitly committing to eradicate child poverty, developing policies to offset economic downturns, and making child well-being a top priority," O'Malley said.
But the situation in the U.S. is still bad. Another indicator for child poverty in the U.S. is the child homelessness rate. Last month, a report published by the U.S. Department of Education found that homelessness among U.S. public school students is not only on the rise, it hit a record high: 1.3 million children were identified as homeless in the 2012-2013 school year, an 8% increase from the year before.
While 1.3 million children being homeless seems like an impossibly high number, housing advocates and homelessness activists say it's likely much bigger. After all, the current figure doesn't count homeless infants and toddlers who are too young for school or children not identified as homeless by school officials. When you take these factors into account, the economic situation that a third of America's children now face looks dire.