One Tweet Sums Up Why the World Should Be Watching Burkina Faso Right Now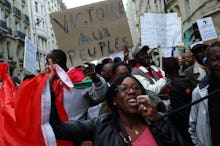 The news: If you feel like the political upheaval in Burkina Faso came out of nowhere, the sentiment is understandable. While resentment in the country against long-term President Blaise Compaoré may have been brewing for decades, it only took three days for protesters to topple the current regime and move Burkina Faso into a transitional government. On Friday morning, the military announced that President Compaoré was no longer in power.
Or as this one tweet by King's College lecturer Alexander Clarkson put it:
He has a point. Ukraine's revolution took months to pick up steam, and the government in Kiev is still trying to quell pro-Russian unrest in the eastern part of the country. The 'Arab Spring' revolutions in Egypt, Libya, and Syria were all long-drawn out conflicts with often less-than desirable outcomes, most notably Syria's bloody civil war. By comparison, the ousting of Compaoré has been something of an 'immaculate revolution' — so far.
Things took a violent turn Thursday as protesters took over state-run TV and radio stations and set fire to government buildings and to the homes of Compaoré's relatives. After a failed attempt at instituting martial law — the police opened fire on the crowd, leaving at least three dead and dozens more injured — the regime announced later in the day that it would dissolve the Parliament and move into a transition government, although it's not yet clear who is in charge. (Compaoré has announced he will not resign.)
Why this is important: In the last 20 years, leaders from 11 countries have tried to amend their constitutions. Seven succeeded: Burkina Faso, Chad, Gabon, Guinea, Namibia Togo and Uganda. Three failed: Malawi, Nigeria and Zambia. TheWashington Post's regional expert Ken Opale notes that that in the three failed attempts, it was the legislatures that rejected amendments to the constitution, but pressure from the masses could help turn the tide against authoritarian rule when they come knocking on the legislatures' door.
But it's not yet clear what Burkina Faso's immediate political future will look like and what these protests will achieve. The military claims that Burkina Faso's 'interim government will remain 'interim,' but the messy outcome of Egypt's 2011 uprising has many international experts on edge. Just because the regime announced a transition government doesn't mean that real, effective changes will be made any time soon — and the fraught political situation can devolve at any time.
Still, what's remarkable is how quickly and effectively the country mobilized to make a statement. In a matter of days, protesters forced the government's hand and gained the support of the international community: Despite Compaoré being an ally in the region, both the U.S. and the EU have called on him to reconsider the proposed amendment to extend his rule. Unlike the protests and revolutions that have followed the Arab Spring, this one has been relatively fast and bloodless. It will be interesting to see where things go from here.