These Students Just Staged an Epic 'Shit-In' for Gender-Neutral Bathrooms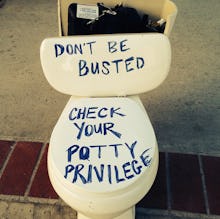 When nature calls, virtually everyone expects to have access to a nearby bathroom that provides the privacy needed to relieve oneself. But that basic right is taken for granted by most people. 
For many transgender and gender-nonconforming people, bathrooms become a matter of personal safety. What should be a simple trip to the loo often leads to verbal harassment, gender policing and even physical violence, not to mention the fact that bathrooms labeled "men" or "women" erase the reality that not everyone fits neatly into either gender category. 
Leave it to students at one California school to remind us of this shitty reality, literally.
A group at San Diego State University hosted a "Shit-In" on Oct. 21 to advocate for gender-neutral bathrooms, which they say will help create a safer campus environment for trans and gender-nonconforming people in their community. According to a 2013 Williams Institute study, as many as 70% of trans people reported being denied entrance, assaulted or harassed while trying to use a restroom. 
So the SDSU Trans* Action and Advocacy Student Coalition (TAASC) challenged everyone to not use a gender-segregated bathroom for a week — meaning that students couldn't use any bathrooms labeled for "men" or "women" — as a show of solidarity and understanding that bathrooms aren't safe for everyone. Often, because of personal-safety concerns, many trans and gender-nonconforming people will choose bathrooms that are relatively isolated, only use single-stall options, or avoid public bathrooms altogether and opt for more private alternatives. 
"By participating in this challenge you can have an idea of how difficult it is for trans* and gender non conforming folks to access bathrooms," the organizers said in a Facebook posting for the event. One other stated purpose was to "inspire people to fight for more gender-neutral bathrooms."
And each participant took a bold squat, all in the name of gender equality and anti-violence.
"The day of the event we passed out 500 flyers by 1:00 p.m. 70 people pledged to take the gender-neutral bathroom challenge. Students stopped and inquired, took selfies on the toilets and hashtagged #sdsushitin," TAASC member A.T. Furuya told The Huffington Post. According to the report, the school has hundreds of gender-segregated restrooms but only 15 gender-neutral ones, and they aren't spread out over campus or in convenient locations. 
Even for a campus that's doing much more relative to its peers to ensure people of all genders have safe spaces to use the restroom, there's a lot of work that needs to be done — both at SDSU and in institutions across America — to create environments where one's identity doesn't prevent them from being able to access basic accommodations like a bathroom break. 
Because everyone should be able to pee in peace.