This White Teacher Wants to 'Kill All Black People,' Keeps Job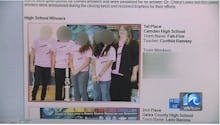 Apparently, the public school system in America thinks blatant racism is A-OK.
Cynthia Ramsey, a math teacher at Camden County High School, in North Carolina, reportedly told her students a few weeks ago that one item on her bucket list is "to kill all black people."
Yep, you read that right.
And, the kicker: She got to keep her job.
Local TV station WAVY spoke to Kimberley Ashcraft, the mother of one of Ramsey's students, who recited the teacher's shocking comments: "She conveyed to me that Mrs. Ramsey had indicated that if she only had 10 days to live that she would kill all black people."
Several students confirmed Ramsey's statement, but Ramsey was not fired. Instead, she was placed on paid leave for a handful of days before being allowed to return to the classroom. 
The district attorney claims that there will be an "ongoing investigation." But the "ongoing investigation" will likely fall to the wayside once media attention evaporates. The DA's statement implies that Ramsey will face no further retribution. This is a dangerous sentiment to express in a school system that is overwhelmingly white and where racial sensitivity is imperative. Even parents of Ramsey's students, who are white, were horrified by her statement and disappointed with her reinstatement. "I was very disappointed to hear that she was back in the classroom so soon," Ashcraft expressed.
Schools — safe, educational environments — are not places that harbor and foster racism. The Camden County school district should not tolerate this racism, and should fire Ramsey without severance pay or any kind of retirement compensation.
Teachers are in the position to be — and foster — the thought leaders of tomorrow. Leading by example is a non-negotiable. No student deserves to learn from a teacher who doesn't talk the talk.