Stop With the "White Face" Outrage Already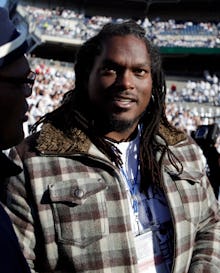 Halloween is always a time when offensive costumes surface. The costume former NFL linebacker and current NFL Network analyst LaVar Arrington showed off Friday is not one of them
Arrington took to Twitter share what he dressed up as this Halloween.
The get-up is in honor of Houston Texans defensive end J.J. Watt, who played a portion of a game with a gash on the bridge at the beginning of the 2013 season.
People began tweeting their thoughts about the fact that Arrington used makeup lighter than his skin tone as part of his costume.
In response to the "white face" outrage, Arrington explained his reasoning:
Any comparison to Arrington's "white face" costume and blackface is reaching. The origins of white performers in blackface date back almost two centuries, when blacks were still enslaved in a large part of the United States.
This clip from Yes Sir, Mr. Bones, released in 1951, shows the outlandishly offensive manner in which blacks were perceived and portrayed by the practice. The film was only released 63 years ago, when blackface already old-fashioned, and it is an example of true racism personified. Whether it's back then or now, white people who do anything in blackface do so in a manner that is malicious and promote stereotypes of black America.
These stereotypes are so culturally embedded that a man who wears blackface to imitate Ray Rice will also wear a faux gold chain with a money symbol -- because, you know, black people. And when not enough people get upset about someone dressing up in "white face," the argument goes, it's a clear example of "reverse racism."
Reverse racism, by the way, isn't actually a thing. So when people get outraged or make comments about Arrington donning lighter makeup, they ignore a truly destructive practice that reinforces stereotypes from centuries ago and which still affects people to this day.
(h/t FTW)