Wal-Mart Has Reached A New Level of Tastelessness With This Costume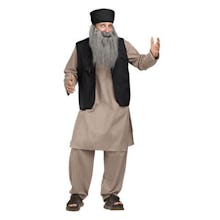 Another day, another blatantly offensive costume choice from America's biggest retailer.
Wal-Mart began the week by describing plus-size women's costumes as "fat girl costumes," and they've capped it off by selling something called a "Pashtun Papa Costume." As BuzzFeed put it, the costume fulfills "all your last minute Islamophobic needs."
The description for the item reads, "Represent the Middle East in this Mens Pashtun Papa Costume this Halloween season. Whether you're making a serious political statement or staging a polical [sic] parody, this authentic-looking outfit is sure to fit the bill! Shock your friends with this Islamic costume." Nice. 
Worried the costume is too offensive? Wal-Mart is here to assuage your fears. "Nothing is sacred this Halloween," it notes helpfully, as if the fact that it's a holiday makes it OK to appropriate and mock at will. 
It gets worse! Should you want even more offensiveness, look no further than the "Arab Sheik" and "Chic Sheik" costumes. 
Before you lose all faith in humanity, it should be noted that a whole bunch of people took the retailer to task for the outfits: 
Brooke Buchanan, senior director of Wal-Mart Corporate Communications, told BuzzFeed that the costume was the work of a third-party retailer and wasn't approved by Wal-Mart. 
"We are deeply sorry that this costume is on our website, and we are pulling it down as soon as possible. We are calling on all of the other retailers to pull it down as well," she said. "We have strict policies with our third party vendors, and it's very important to us that products on the site don't offend groups of people, or minorities."
Here's a novel idea: Don't do it in the first place. Problem solved!
h/t BuzzFeed