This City's Cops Are Suing Over Their Constitutional Right to Crack Skulls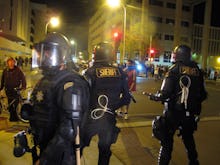 The news: A year after the Seattle police department settled a federal civil rights lawsuit over allegations of systemic police brutality for $1.75 million, a federal judge has thrown out a suit filed by Seattle cops themselves. The cops argued that they had a constitutional right to ignore restrictions on use of force designed to prevent them from unnecessarily cracking skulls and shooting people without appropriate cause.
Seattle police officers are arguing that restricting when and how often they could deploy high levels of force was a violation of their civil rights, elevating the rights of criminal suspects against their own safety. As ThinkProgress explains, the court was not keen to this logic:
This week, a federal judge summarily rejected all of their claims, finding that they were without constitutional merit, and that she would have been surprised if such allegations of excessive force by officers did not lead to stricter standards.
The background: From the looks of the Associated Press report, it's not like the new policies were really all that onerous towards cops. It merely codified rules to prevent police officers from using inappropriate levels of force on non-violent suspects.
The policy lists guidelines for every weapon used and requires the most serious uses of force to be investigated by a special team. It spells out when force is appropriate, stresses that alternatives to force should be used "when time, circumstances and safety permit," and requires that officers carry at least one less-lethal tool such as a Taser.
There are reasonable guidelines, and are completely necessary in Seattle. In 2011, the Department of Justice concluded that Seattle's "systems of accountability" were broken and a small group of officers was allowed to generate a disproportionate number of use-of-force incidents. A DOJ report concluded that at least 1 in 5 violent encounters with the police in Seattle involved unconstitutional use of force against suspects.
The Seattle Post-Intelligencer documented the report's findings: "Our investigation finds a pattern or practice of constitutional violations regarding the use of force that result from structural problems, as well as serious concerns about biased policing ... SPD's vague Use of Force policy and inadequate training encourage pervasive underreporting and render the department's statistics on its use of force incomplete," the report's authors wrote. They noted that 57% of times that officers used impact weapons like clubs or flashlights, their use was either not justifiable or excessive.
Seattle cops used disproportionate force against low-level offenders like shoplifters or jaywalkers. Some officers even told investigators that they believed they did not have to report use-of-force incidents unless there was an injury requiring medical attention, while others said that they only had to report violent encounters with suspects "when media attention was expected."
What's more, victims of excessive force were incredibly unlikely to find redress: Just five of 1,230 use-of-force incidents in 2010 were ever seriously investigated.
Why you should care: It's great that the cops' ridiculous argument, that not brutalizing people over relatively innocuous crimes puts them in danger, was shot down by the courts. But more broadly, police brutality and excessive force remain startlingly common across the country, something that former Seattle police chief Norm Stamper even admitted. The U.S. has hardly begun to take baby steps towards resolving this problem. Local police report killing around 400 people per year, but since there's no national database of police data or requirement to report it in the first place, the actual number may be far higher.