The ACLU Is Fighting for Your Right to Take a Selfie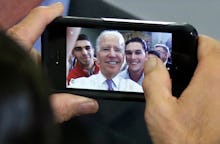 The Beastie Boys would be proud.
The New Hampshire American Civil Liberties Union (ACLU) has filed a lawsuit against the state, claiming that its ban on ballot selfies — a photo of one's completed ballot posted online — violates the First Amendment. New Hampshire is one of many states that bar the practice, and though it varies by region, punishment can range from a large fine to jail time.
"There is no more potent way to communicate one's support for a candidate than to voluntarily display a photograph of one's marked ballot depicting one's vote for that candidate," the lawsuit argued.
Boston.com reports that although New Hampshire has had a law like this for some time, it was updated in June to reflect the changing times. It now also bans "taking a digital image or photograph of his or her marked ballot and distributing or sharing the image via social media."
One of the plaintiffs named in the suit, state Rep. Leon Rideout, told the Nashua Telegraph he tweeted a photo of his ballot "to make a statement."
The thinking behind the ban: Jeff Hermes of the Citizen Media Law Project told the Atlantic in 2012 that showing a "marked ballot to voters waiting in the queue can be used as a form of pressure to vote similarly or to confuse voters who have difficulty reading English as to how to mark their own ballots." The government is also concerned with preventing voters from taking photographic proof of their ballots in return for money.
The ACLU isn't buying it. 
"What this law ignores is that displaying a photograph of a marked ballot on the Internet is a powerful form of political speech that conveys various constitutionally protected messages that have no relationship to vote buying or voter coercion," the lawsuit said.
With the midterm elections this Tuesday, it's a prescient time for the issue to arise. Regardless of the law, however, voters will likely take matters into their own hands — just as Ad-Rock, MCA and Mike D would have wanted it.