Scientists Now Know the Catchiest Song of All Time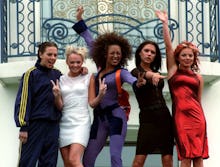 It's official. Scientists have finally figured out the catchiest song of all time, and the winner is "Wannabe" by the Spice Girls.
The 1996 single off the group's debut album Spice claimed the top spot after researchers at Manchester's Museum of Science and Industry (MOSI) utilized a "Hooked on Music" test/data-collecting-game to pinpoint the musical popularity of more than 1,000 best-selling songs.
From their study of 12,000 people, the researchers found it takes an average of just 2.29 seconds to recognize "Wannabe" when the chorus begins at 45 seconds in with "if you wanna be my lover ..."
The study: Rounding out the rest of the top five were Lou Bega's "Mambo No. 5," Survivor's "Eye of the Tiger," Lady Gaga's "Just Dance" and ABBA's "SOS."
Ashley Burgoyne, the computational musicologist from the University of Amsterdam who designed "Hooked on Music" told the BBC that this kind of research has a lot of buzz and talk, but relatively little empirical evidence and data, which is exactly what this study looked to remedy.
"I work within a group that studies music cognition in general — any way in which the brain processes music — and we were particularly interested in music and memory and why exactly it is that certain pieces of music stay in your memory for such a long time," he told BBC News. "You may only hear something a couple of times yet 10 years later you immediately realise that you have heard it before. Yet other songs, even if you have heard them a lot, do not have this effect."
Granted, this test was limited to the U.K., but, for the most part, Americans tend to share a lot of musical commonalities with their friends across the pond. Additionally, the "Hooked on Music" app will remain online and playable for the rest of the year, so Americans still have plenty of time to become a part of the data pool. 
Serious implications: While this kind of information might just seem like a fun diversion, these kinds of findings could potentially have serious implications for the music industry, which is already doing its best to mechanize and automate the hit-making business.
"The most important aspect of this stage of the experiment was getting this very precise measurement of exactly how memorable segments of the songs are," Burgoyne told BBC News. "What I am going to focus on for the next year is asking what explains this; what are the musical features that makes something catchy?"
If musicians and producers could actually scientifically figure out what makes a song catchy, we'd all be done for. You won't pick your next favorite song — a computer will have already done it for you. 
Here's the top 20, including how long each song takes to be recognized and how far into the song that point is:
1. Spice Girls - "Wannabe" - 2.29 s (0:45)
2. Lou Bega - "Mambo No. 5" - 2.48 s (0:50)
3. Survivor - "Eye of the Tiger" - 2.62 s (2:04)
4. Lady Gaga - "Just Dance" - 2.66 s (1:39)
5. ABBA - "SOS" - 2.73 s (2:25)
6. Roy Orbison - "Pretty Woman" - 2.73 s (1:07)
7. Michael Jackson - "Beat It" - 2.80 s (0:38)
8. Whitney Houston - "I Will Always Love You" - 2.83 s (3:09)
9. The Human League - "Don't You Want Me" - 2.83 s (3:05)
10. Aerosmith - "I Don't Want to Miss a Thing" - 2.84 s (2:22)
11. Lady Gaga - "Poker Face" - 2.88 s (0:57)
12. Hanson - "Mmmmbop" - 2.89 s (1:44)
13. Elvis Presley - "It's Now Or Never" - 2.91 s (2:14)
14. Bachman-Turner Overdrive - "You Ain't Seen Nothin' Yet" - 2.94 s (1:48)
15. Michael Jackson - "Billie Jean" - 2.97 s (1:25)
16. Culture Club - "Karma Chameleon" - 2.99 s (0:41)
17. Britney Spears - "Baby One More Time" - 2.99 s (0:33)
18. Elvis Presley - "Devil in Disguise" - 3.01 s (1:21)
19. Boney M. - "Rivers of Babylon" - 3.03 s (0:23)
20. Elton John - "Candle in the Wind" - 3.04 s (0:39)
And a small sampling of the top 10 songs on the list:
h/t Independent