New Poll Crushes Democrats' Dreams of Keeping the Senate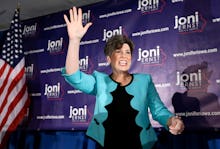 Iowa just dumped a bucket of ice water on Democrats still hoping to keep control of the Senate on Election Day. 
A new Hawkeye State poll from the Des Moines Register shows Republican Senate candidate Joni Ernst jumping out to a seven-point lead in her critical showdown with Democratic Rep. Bill Braley. Ernst, now with 51% support to her opponent's 44%, and Braley are running to replace Sen. Tom Harkin, a Democrat who will retire at the end of this term. 
Republicans need to pick up six seats nationwide to gain a majority in the Senate. They already have four — Montana, Arkansas, West Virginia and South Dakota — pretty much locked up. Now, with Iowa taking a big turn toward Ernst, Democrats would need a minor miracle to extend their eight-year run of dominance in the upper chamber.
Braley's campaign got word of the poll last night during a rally last night in Waterloo. They quickly issued a statement questioning its accuracy.
"With the exception of today's outlier, every single poll of Iowa voters in the last few days has shown this race to be a dead heat heading into Election Day with clear movement in Bruce's direction," wrote Braley campaign manager Sarah Benzing, who claimed internal polling pointed to a Braley win "on the strength of his clear and significant lead among early voters, the superior Democratic ground efforts that will drive far greater numbers of supporters to the polls, and his strong and consistent lead among independent voters."
Identifying independent voters is a notoriously tricky exercise. Most people like to think of themselves as "independent," despite the fact they consistently vote for a single party. In the Des Moines Register's calculation, Ernst is leading with independents by a staggering 12 points, 51-39.
The Bing Predictions model, which takes into account a number of polls, also shows Ernst as an overwhelming favorite, with a 72.3% chance of winning:
History suggests the Register knows Iowa voters better than the Braley campaign says. Their final poll of likely Iowan voters before the 2012 election showed President Obama with a five-point lead over Mitt Romney. On Election Day, Obama won the state by precisely 5.6 points.
The Ernst campaign was predictably pleased by the Register poll. 
"Iowans want Washington to go in a new direction, and this poll reflects the growing momentum we are seeing on the ground behind Joni," Ernst campaign spokeswoman Caitlin Conant said last night. "We've always said this will be a close election, but we are confident that Iowans are rejecting Congressman Braley's false attacks and will elect the first-ever Iowan woman to Congress."
Whatever their reasons — Braley being caught on camera earlier this year describing the state's popular senior senator, Republican Chuck Grassley, as "a farmer from Iowa who never went to law school" certainly didn't help — voters in swing-state Iowa appear to have swung. And their decision has likely guaranteed that Republicans will control the Senate for at least the next two years.
This post has been updated.