It's Time We Started Taking T-Pain Seriously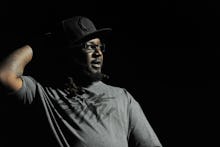 Last week, T-Pain performed for NPR's Tiny Desk Concert series — without Auto-Tune. The video went viral and the Internet fell into a T-Pain tizzy as everyone realized the truth about him: T-Pain can actually sing.
In fact, he's always had musical talent, something that was just unearthed (not birthed) from his NPR performance. Not only that, he's an amazing and highly respected songwriter. And it's time everyone took that talent seriously.
T-Pain has long been at the heart of the Auto-Tune stigma, the hip-hop king of all things altered and distorted. But for him, the program has always been an instrument. It was in 2005 that his debut album, Rappa Ternt Sanga, first brought Auto-Tune into popular conversation. He had heard it before in a Jennifer Lopez remix and tracks like Cher's "Believe," but saw an untapped potential in its technology. 
"My dad always told me that anyone's voice is just another instrument added to the music," T-Pain told Mashable in 2011. "I got a lot of influence from [the '60s era] and I thought I might as well just turn my voice into a saxophone." That manipulation is what pioneered his early radio hits, especially the album's most popular (and controversial) track, "I'm N Luv (Wit A Stripper)." Between that and the stovepipe hat, T-Pain's popular persona was sealed — and rapidly lampooned.
But even though Auto-Tune was an artistic decision, not everything of T-Pain's was always blatantly auto-tuned. Halfway through Rappa Ternt Sanga, for example, an interlude titled "Have It" showcases the "rapper-turned-singer's" roots. It's a spare R&B slow-jam where his characteristically tuned voice sounds almost unrecognizable. Then there's "Suicide" from his 2007 follow-up Epiphany, and "Keep Going" from 2008's Thr33 Ringz. These are the overlooked and soulful tracks that highlight a calmer side of T-Pain, one that spends hours honing his craft in the studio. It's the side everyone was shocked to hear behind the Tiny Desk. 
But after T-Pain became a caricature of himself, nobody wanted to pay attention to his obvious talent. The image of T-Pain as an auto-tuned pop punchline is a cottage industry — there are parodies, apps and microphones resulting from T-Pain's success. But this cultural disregard not only ignored his amazing voice, it also completely missed his excessive talent as a songwriter and producer. He's had his hand in dozens of songs, from Maino's "All The Above" to Rick Ross' "Maybach Music 2" to Flo Rida's "Low." He's even won a slew of awards, including two Grammys for Best R&B Performance by a Duo or Group ("Blame It" with Jamie Foxx) and Best Rap Song ("Good Life" with Kanye West). 
T-Pain seems like a punchline, then, only because he's been so successful at creating a style that seized everybody's attention. He calls the sound "Hard & B," and he's been slowly building and improving upon his writing and production skills throughout the last decade. Everyone from FKA twigs to Michael Jackson has praised his musical abilities. But somehow the praise never made it to the public eye — and that got frustrating. 
Even though Kanye's 808s and Heartbreaks — an album that marked a turning point in Yeezy's career, heavily tinged with Auto-Tune and electronic production — was produced almost entirely in the presence of T-Pain, he received no direct credit. Then there was Jay Z's "D.O.A. (Death of Auto-Tune)" that seemed a direct jab at all T-Pain represented back in 2009. Although Jay eventually saw past it, the track is a reminder that T-Pain's career has often been overshadowed by what "bigger" names in hip-hop have been able to slam on top of him.
"I write my music. I produce my music. I sing it. I damn near record all of it myself and you gotta go out and perform it," T-Pain also told Mashable. "It's a hard way of making music. On the other hand, [some artists] get someone to write and produce it and you just sing it in the middle like a puppet."
But now, thanks to one viral video, T-Pain is getting a glimpse of the recognition he's deserved for a while. He deserves a moment in the spotlight without being written off for his style. There's something about today's T-Pain that reflects an unadorned maturity. Maybe it's because he's almost 30. Maybe it's because he's tired of being a gimmick. Or maybe it's because — after being the butt of the overproduction jokes for far too long —he still comes across as anxious before performing his own songs live, regardless of his raw, vocal talent.
In the words of Jay Z's "D.O.A.": "This is death of Auto-Tune / Moment of silence." But when it comes to T-Pain, the music is only beginning.