One European Country Just Banned Energy Drinks for Minors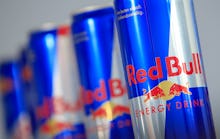 The news: Most of the world applies age restrictions to minors when it comes to alcohol. But what about other potentially harmful beverages, such as energy drinks?
According to Lithuania, a can of Red Bull can do just as much damage as a beer, and should be kept out the hands of minors. This week, the Baltic state became one of the only countries in the world to ban selling energy drinks to anyone under the age of 18, with a fine of up to 400 litas ($146).
"It's a revolutionary development the world over: we didn't find a single other country to have this kind of ban," Lithuanian health ministry official Almantas Kranauskas told Agence France-Presse. "Most countries only have recommendations. We are the first."
However, in 2012, Yahoo! Maktoob reported that the United Arab Emirates banned the sale of energy drinks to those younger than 16, with fines for sellers who ignored the policy reaching 35,000 dirhams ($9,529). In September, the UAE considered raising the age limit to 20, and Monday, Saudi Arabia passed numerous restrictions on energy drink advertisements and sales, Al Aribiya reported.
Why is Lithuania doing this? Lithuanian lawmakers passed the ban in May as pressure mounted in the EU to crack down on energy drinks. The ban followed a slew of research showing the popularity of drinks such as Red Bull and Monster, especially among minors: A 2013 study by the European Food Safety Authority found that 68% of European kids between 10 to 18 years old drank energy drinks. In Lithuania, roughly 10% of schoolchildren said they have an energy drink at least once a week.
Several studies have also come out in recent months linking energy drinks to heart problems, depression, risk of unhealthy behavior and negative side effects of caffeine dependency and overdose, such as palpitations and convulsions.
While more research is needed to understand the full consequences of energy drinks, there have been similar efforts throughout Europe and even in the U.S. to regulate minors' access to such drinks. Still, Lithuania's ban is more stringent than most. It remains to be seen how effective it is and whether it has any bearing on public health. But for now, it can serve as a case study for other countries looking to restrict these heavily caffeinated beverages.