Rand Paul Is Fine With Voter ID Laws, as Long as No One Talks About Them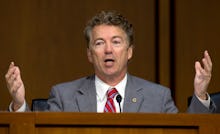 There's been some debate recently over whether or not Sen. Rand Paul (R-Ky.) is "the most interesting man in politics."
But if his hedging on the Republican Party's push to expand discriminatory voter ID laws is any indication, perhaps we should swap out "interesting" for "deeply cynical."
Paul told NBC's Meet the Press Sunday that he supports the new restrictions, which the GOP has been pushing in state legislatures across the country. He knows that his fellow Republicans believe that suppressing the vote will help them win elections. And he's cool with it; he just thinks they should be a little less chatty about it.
"It doesn't mean that I think it's unreasonable. I just think it's a dumb idea for Republicans to emphasize this and say, 'This is how we are going to win the elections," Paul said in an interview with host Chuck Todd.
"I don't think there's a problem with showing your ID," he explained, "but I do think there's a problem with Republicans saying, 'Hey, our big issue for the campaign is going to be voter ID,' because what it creates is — a lot of African-Americans understandably remember the '40s and '50s in the South, and they remember suppression of the vote."
Watch his comments here:
Let's roll this back: Paul has done — or said, really — some good things on race relations. He is co-sponsoring legislation with Sen. Cory Booker, a New Jersey Democrat, that would reform employers' use of background checks on nonviolent drug felons. The duo have discussed action against mandatory minimum sentencing. Paul has also said he wants to restore voting rights for some felons. 
Now, though, he has come out in favor of requirements opponents like Supreme Court Justice Ruth Bader Ginsburg called unconstitutional, even racist, and a threat to the voting rights of "hundreds of thousands of Americans." This, despite the fact that, as Ginsburg wrote, there were "only two in-person voter fraud cases prosecuted to conviction in Texas" between 2002 and 2011.
Ginsburg penned her dissent against the court's decision to let the Texas law go ahead in this current cycle. The absurdity was highlighted during early voting, when a 93-year-old veteran was turned away from the polls because his driver's license had expired. Over 600,000 eligible Texas voters are estimated to be without the required identification, most of them poor or minority voters.
In Wisconsin, which also has a Republican governor and legislature, a new round of restrictions have been delayed by the high court, which ruled that election officials didn't have enough time to implement them properly.
Celebrated conservative Judge Richard Posner — an appointee of President Ronald Reagan's — saw a bigger problem, writing that Wisconsin's rules, like the rest, are "highly correlated with a state's having a Republican governor and Republican control of the legislature and appear to be aimed at limiting voting by minorities, particularly blacks."
Time to take a stand: Rand Paul says it everywhere he goes. He wants "more voting," he wants to expand the franchise with early and absentee voting and legislation to get nonviolent felons, who are disproportionately from minority communities, back into the mix. He has, to great fanfare, been traveling the country on a "listening tour," trying to repair "the Republican brand," which he says "sucks."
So here's a pro-tip for Paul: Choose a side. Voter ID laws are discriminatory. They are a clear and present danger to the function of the republic. The problem is not with how they are presented or how often they are discussed. The problem is that they exist and, without serious intervention, will continue to spread.