Watch One World Trade Center's 10-Year Construction in One Mesmerizing GIF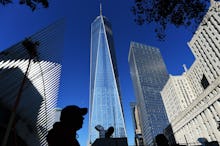 The news: Standing 1,776 feet tall, One World Trade Center opened its doors on Monday, 4,801 days after the 9/11 terrorist attacks on the twin towers.
Condé Nast, the media company that publishes the New Yorker, Vogue and GQ, became some of the 104-story tower's first tenants on Monday. Its roughly 2,300 employees will occupy 24 floors.
The new building's unique design is based on concrete and steel, with a 20-story base that anchors the tower. A total of 45,000 tons of structural steel and 208,000 cubic yards of concrete composes the skyline behemoth.
It took over 10 years to build the tower, but by the looks of this 24-second GIF, it seemed so easy.
As for the final price tag of the tower? Around $3.9 billion, twice the original estimates.
The area around Ground Zero in lower Manhattan has seen significant change over the past decade. According to the Washington Post, the population in the neighborhood has tripled. Anyone walking around will notice newer condo buildings along with trendy bars and restaurants.
Many see the opening of 1 WTC as a symbol of New York's rebirth after years of post-9/11 trauma. The National Sept. 11 Memorial and Museum have been open since 2011 and 2014 respectively for survivors and family members to pay respects to those who were lost. The skyline might be scarred with reminders of the attacks, but the gradual rise of 1 WTC shows us the wound can finally close.
h/t Washington Post