Here's How St. Louis Police Tried to Keep America From Seeing What Happened in Ferguson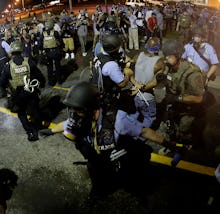 The news: For 10 days in August, media helicopters were barred from covering the police crackdown on protests in Ferguson, Missouri, over the shooting death of teenager Michael Brown. What was purported to be an issue of public safety was actually an effort to keep the media from capturing what was really happening on the streets of the Missouri suburb. 
"They finally admitted it really was to keep the media out," said one FAA manager about the St. Louis County Police in a series of recorded telephone conversations obtained by The Associated Press. "But they were a little concerned of, obviously, anything else that could be going on."
Elsewhere, managers for the FAA describe how police officials allowed them to maintain normal procedures for all nonmedia commercial aircraft.
Why you should care: Basically, the cops tried to prevent you from seeing more images like this:
As the Associated Press notes, the no-fly zone is evidence that the police cracking down on protesters in Ferguson actively conspired "to suppress aerial images of the demonstrations and the police response by violating the constitutional rights of journalists with tacit assistance by federal officials."
In other words, it wasn't a no-fly zone. It was a no-information zone. The St. Louis County police simply didn't want the media to show American what was happening on the ground.
Sadly, this is exactly what reporters on the ground experienced as well. That same week, reporters Ryan J. Reilly and Wesley Lowery were assaulted and arrested by police inside a local McDonald's before being released. Police also fired tear gas at an Al Jazeera America news crew and dismantled their equipment. Then there was the infamous incident involving "Officer Go Fuck Yourself," a rifle-toting cop who repeatedly threatened to murder journalists:
These and other abuses might be why Amnesty International found evidence of "human rights abuses" in Ferguson following the Aug. 9 death of Brown, especially media suppression.
"From Aug. 13 through Oct. 2, at least 19 journalists and members of the media have been arrested by law enforcement with others subjected to tear gas and the use of rubber bullets," the group wrote in a report. "Reporters for CNN, Al Jazeera America, and other outlets report being harassed or physically threatened. Likewise, legal and human rights observers have also faced arrest for carrying out their roles." In one incident, Intercept journalist Ryan Devereaux and Bild reporter Lukas Hermsmeier were fired upon with rubber bullets.
As it turns out, Ferguson's police don't seem to have been very concerned with protecting anyone's rights at all.