Taylor Swift Is About to Make History in a Big Way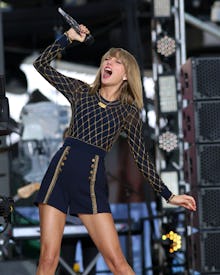 It's official: 1989 is the biggest musical event of the year. 
The album's first-week sales figures are set to be so astronomical that, even in the age of terrible album sales, this record will likely make history, according to Billboard, as the only album released in 2014 to go platinum, the biggest opening sales week of any album in more than a decade and the only record to secure three million-selling opening weeks for a pop star. By Wednesday, at the age of 24, Taylor Swift may be the most powerful and successful female pop star in history.
Swift's 1989 is projected to sell over 1.3 million copies by Wednesday, when first-week sales data become available. This would make 1989 the first album released in 2014 to be certified platinum — a feat many assumed no musician could accomplish. She will do so in a single week, making this the biggest first-week sales figure since 2002's The Eminem Show. 
According to Billboard, 1989 is also on track to become the highest-selling first-week release by a female artist ever, topping Britney Spears' Oops I Did It Again, which moved 1.319 million its first week in 2000. Swift will also become the first artist to have three separate albums' first week sales top 1 million.
Besides making universally loved music, a large portion of the reason why Swift's sales figures are so astronomical is because there's no other way to listen to the album other than to buy it — as of Sunday night, in fact, all of Swift's music had been pulled from Spotify. This only builds on the ideas she espoused in her Wall Street Journal op-ed, in which she urges artists to "realize their worth and ask for it."
That may be a luxury few can afford, though. 1989 is a massive event in every way — right down to album security. Her label has dedicated an unprecedented amount of manpower to making sure the album does not leak. Album cuts are still not appearing on YouTube, and those that have have been muted by the site, citing copyright violations.
Few other artists could ever mobilize this kind of anti-leak campaign, but few artists would warrant it. Swift can move crowds in a way few other pop stars can. She'll prove that again on her world tour that will start in May. 
The reasons why Swift wins 2014 just keep piling up, and we couldn't be happier for her.
h/t Billboard