Ariana Grande Wants You to Know She's a Grown-Up Pop Star on "Love Me Harder"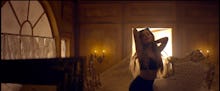 This was the summer of Grande. Between "Bang Bang" and "Problem," Ariana Grande treated us to some of the biggest hits of the hot season. Now that it's autumn, though, and the year is quieting down, she's changed the tone of her releases to match. Released Monday, the third single off My Everything, "Love Me Harder," is a far more subdued and sensual ballad than anything she's shared previously. With it, Grande proves she's got some depth to her music, and she makes a clear and sort of explicit play to distance herself even further from her Nickelodeon days.
Grande drew some skeptical looks when she announced her decision to feature the Weeknd on "Love Me Harder," her album's most sensual song. The Weeknd writes some of the kinkiest and most deviant pop music around: A lot of it deals with drug use, BDSM and all that good stuff. It's a far cry from Grande's cheery, lingering Nickelodeon image, but the Weeknd is on his best behavior here. While Grande poses seductively in a sepia-toned room, the Weeknd sings by his lonesome in the shadows. 
Still, Grande's point that she's a grown woman stands. Even while rocking those cat ears, Grande is showing a far greater range as a performer than she has before. She's a grown pop star who can own a ballad just as easily as a peppy banger. It's time we started considering her as one.