The Nazis' Infamous 'Work Sets You Free' Sign Is Suddenly Missing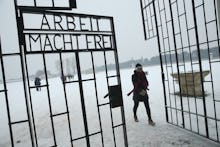 The news: The top part of a wrought-iron gate bearing the Nazi's infamous motto "Arbeit macht frei" ("Work sets you free") sign was stolen from the former Dachau concentration camp, German police said Sunday.
Officials have yet to find evidence leading to the thieves and appealed to anyone who noticed suspicious behavior in the vicinity to come forward.
A security video camera could have documented the theft, but the private security firm tasked with protecting the memorial site opted out of it because they didn't want to turn the site into a "maximum-security unit," the German news agency DPA reported. The policy is now under review.
The stolen gate represents the "central symbol for the prisoner's ordeal," memorial director Gabriele Hammermann told the DPA.
"This is a new quality [of] desecration," Hammermann said.
Dachau, opened in 1933, was the first concentration camp created by the Nazis, serving as a model for later death camps. More than 200,000 people were held there, and 41,500 prisoners died before U.S. forces liberated the camp in April 1945.
The symbolic gate was not the first target for thieves. In 2009, the "Arbeit Macht Frei" sign was stolen from the gate leading into Auschwitz on behalf of a Swedish neo-Nazi ring. Five Polish men and a Swedish man received prison sentences of more than two years for the theft.
In 2011, an Israeli couple stole historic artifacts from the Auschwitz museum grounds. The couple were given were fined and given two-year suspended prison terms.
Israel's Yad Vashem Holocaust memorial and museum condemned the recent theft in Dachau in a blog post. 
"While we do not know who is behind the theft of the sign, the theft of such a symbolic object is an offensive attack on the memory of the Holocaust," it wrote, the entirety of its statement.