18 Albums You Need to Hear This November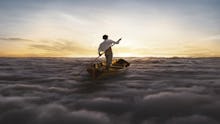 As pumpkin spice season comes to its closing stretch, a month of potentially fantastic upcoming album releases begins. Legendary mainstays and modern indie heroes all have new material coming out this November, and it's even rumored (though highly unlikely) we'll see a surprise release from a certain former Destiny's Child member. Below are some of the most anticipated records set to hit shelves and online retailers this month.
Motion by Calvin Harris — Nov. 4
The hit-making Scottish producer has a knack for dominating the airwaves. His last album featured the emotional megahits "We Found Love" and "I Need Your Love," and with his new album boasting guest appearances from Ellie Goulding, Haim and esteemed others, it's not far-fetched to expect a solid year of Harris-dominated Top 40.
Storytone by Neil Young — Nov. 4
The Canadian legend has been at it since the 1960s, but the aging rocker shows no signs of slowing: Storytone will be Young's second album of 2014 and his fourth since 2012. The new record employs a much different aesthetic than his previous release. While A Letter Home was captured in an old-fashioned recording booth, Storytone features the singer deploying a 92-piece orchestra and choir.
Stateless by Dirty Beaches — Nov. 4
Source: Soundcloud
Dirty Beaches, the stage name of lo-fi Taiwanese-Canadian musician Alex Hungtai, announced its dissolution in October, but his final output will soon see the light of day. And at the very least, it's a curious swan song: an entirely instrumental work featuring Hungtai on synthesizer and tenor sax and Italian composer Vittorio Demarin on viola. It'll be strange, to be sure, and it's almost guaranteed that nothing on the new record will top "Lord Knows Best."
La Isla Bonita by Deerhoof — Nov. 4
Some artists wear their influences on their sleeves, but none more readily so than the members of Deerhoof, who have stated their latest album is based on the Ramones song "Pinhead." Although those similarities are present on the album, the 30-minute release covers ground far more diverse and wild than just throwback punk.
The Endless River by Pink Floyd — Nov. 7
The transcendental psychedelic rockers are back with their first album since 1994's The Division Bell. This album, largely based on outtakes from their previous effort, has been trending heavily online for months now. The release serves also as a tribute to the late Richard Wright, a founding member of the group, who died of cancer in 2008.
Sonic Highways by Foo Fighters — Nov. 10
Dave Grohl and company teased their first album since 2011's Wasting Light with an 8-second scream. The three since-released singles have continued to prove that Foo Fighters won't be letting up their intensity any time soon, though each has been a bit more fleshed out than that scream, to say the least.
My Favourite Faded Fantasy by Damien Rice — Nov. 10
It's been eight long years since the Irish singer-songwriter's last record, 2006's 9, but the wait will finally be over Nov. 10. The video for lead single "I Don't Want To Change You" takes a page from the awkward dancing playbook of Thom Yorke, although the erratic moves accompany a more traditional folk arrangement. The album is now streaming on NPR.
The Inevitable End by Röyksopp — Nov. 10
On what is being billed as the final album from the Norwegian electronic duo, Röyksopp gets vocal help from Norwegian chart-topper Susanne Sundfør and Swedish Grammy-nominee Robyn. The latter sings on lead single "Monument," a pulsating electro-banger that captures a modern but primal intensity.
Content Nausea by Parkay Quartz — Nov. 11
Source: Soundcloud
Brooklyn punk group Parquet Courts has, for whatever reason, decided to adopt a slightly different alter ego for the release of its second album of the year. Based on recent song "Uncast Shadow of a Southern Myth," the group (Parkay Quartz) is holding onto its lackadaisical approach to the signature stoner punk sound that has garnered it a significant fan base.
Four by One Direction — Nov. 17
It's super easy to dismiss this band of boy wonders as another product of the Simon Cowell hit machine, but the group has recently received praise for co-writing its own songs and perhaps even having artistic merit. If nothing else, the surreal, Danny DeVito-starring video for lead single "Steal My Girl" gives the heartthrob British four-piece some street cred.
The Art of McCartney by various artists — Nov. 18
The former Beatles frontman has received his share of acclaim since the 1960s, but this tribute album, which has been in progress for over 11 years, is one of the most fitting tributes for the ubiquitous music legend. The 42-track collection of covers features contributions from acts of all walks of musical life, including peers like Bob Dylan and Willie Nelson, as well as newer groups like Owl City, the Airborne Toxic Event and Peter, Bjorn and John.
Pom Pom by Ariel Pink — Nov. 18
The oddball, throwback mellow rocker has most recently made headlines for his spat with Madonna, but now that the follow-up to 2012's Mature Themes is drawing nigh there's something a lot more interesting to discuss. Its serene lead single "Put Your Number in My Phone" gives justifiable hope for the other 16 tracks on the 69-minute double album.
Seeds by TV On the Radio — Nov. 18
The video for "Happy Idiot," the lead single from TV On the Radio's upcoming fifth album, stars Paul Reubens as Racer Steven, an unstable driver who likes to go fast (no, not Ricky Bobby), so good things are happening here. The track falls in line with the band's previous output, because you don't mess with what works.
Listen by David Guetta — Nov. 21
While producers like Guetta have talent to spare on the instrumental side of things, they often need help vocally. Guetta is no exception: On the French DJ's sixth album, esteemed colleagues including The Script, John Legend, Nicki Minaj and Skylar Grey lend their voices and help Guetta remain the bass-rattling EDM force he has become.
Reclassified by Iggy Azalea — Nov. 24
The Australian rapper recently took on haters with a clever, self-deprecating Halloween costume. And now, The New Classic, her debut album from earlier this year, is set to undergo a transformation of its own. The rerelease of the record, Reclassified, features five new songs, including "Beg For It," on which Azalea's southern style works tremendously with the punchy instrumental and chorus by Danish singer MØ.
The London Sessions by Mary J. Blige — Nov. 24
The queen of hip-hop soul is back with what Billboard called "objectively her best" album since 2005's The Breakthrough. That's a good sign, as the record is the most recent of her five triple-platinum releases. British electronic duo Disclosure produced a couple of songs on the album, and fellow countryman Sam Smith co-wrote the lead single "Therapy," a minimal doo-wop-inspired number that lets Blige's iconic voice shine through.
Shady XV by various artists — Nov. 24
Shady Records, the label founded by Eminem in 1999, is celebrating its 15th anniversary by releasing its 15th album, a compilation of new material by Shady Records artists like Yelawolf, D12 and Eminem himself. The second disc is a greatest hits collection, featuring hits like Obie Trice's "The Setup," Yelawolf's "Pop the Trunk," and a bunch of classics from the label's two most prominent products, Eminem and 50 Cent.
Beyoncé Volume 2 by Beyoncé — surprise
Rumors have circulated the past few weeks about a possible surprise collaborative album from Queen Bey and hubby Jay Z, but the latest buzz suggests the superstar singer might go about her next release on her own, following up her self-titled album from this year with its sequel in just a couple of weeks. The news seems like a hoax — the only confirmation of the record thus far is a photo of a supposedly authentic release confirmation, complete with release dates and a track list — but the mentioned featured artists, which include Justin Timberlake, Nicki Minaj and Rihanna, has the world praying this questionable scoop is legitimate.