Midterm Voters Are Automatically Having Their Ballots Switched to Republican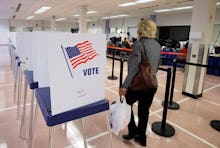 The news: Voters in North Carolina are running into an interesting problem while trying to cast their ballots early — the machines keep voting Republican, even when the voters don't.
"I called one of the poll workers over," [voter Percy Bostick] explained. "She said do it again. And again, I touched the screen at the proper place for Kay Hagan, and it again reported it for Thom Tillis."
The Raw Story reports that on multiple occasions, voters attempting to vote for Democrat Kay Hagan instead saw their ballots going to GOP candidate Thom Tillis:
Guilford County's elections director, Charlie Collicut, told the site he received 14 complaints about voting problems since Oct. 23.
The background: Hagan and Tillis are locked in a too-close-to-call race, with Hagan generally seen as only leading by a few points. Malfunctioning voting machines — whether they are doing so because of tampering or, more likely, shoddy workmanship — not only pose a serious threat to the credibility of election results everywhere, but they're particularly disconcerting when races are so close. 
However, voters are less likely this year to encounter an electronic voting machine at all, let alone a buggy one. The Hill's Cory Bennett reported that many states have opted out of using the expensive, hard-to-maintain digital machines, instead choosing to return to older methods of casting a ballot such as punch cards and levers. Watchdog group Verified Voting estimates that 70% of voters will be casting a paper ballot Tuesday. As Bennett writes, this could be a good thing:
One group from Princeton needed only seven minutes and simple hacking tools to install a computer program on a voting machine that took votes for one candidate and gave them to another.
But ... Fortunately, major technical barriers are in place to prevent mass fraud, even with the digital machines. For one, they're not networked, meaning any would-be hacker would have to physically access the units. So far, there's no credible evidence that anyone has attempted such fraud. In general, major election fraud remains next to non-existent.