This State Will Legalize Marijuana Today — If Young People Show Up to Vote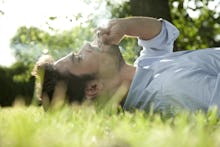 Two opposing polls out of Oregon are making one thing very clear: If young people get out and vote on Election Day, the ballot initiative to legalize marijuana in the state will pass.
The more recent survey, conducted by the Oregonian and KGW, found that 46% of respondents opposed Measure 91 — which would allow adults to grow, hold and, for licensed individuals, sell weed — giving them a small lead over supporters, who clocked in at 44%. 
Support is strongest among younger voters — 56% of voters aged 18 to 34 express support for legalization, compared with 39% of those aged 65 and over. The result will depend on whether those younger voters actually show up to the polls.
Generational divide: The overall measure of support seems like a big move from two weeks ago, when Oregon Public Broadcasting and Fox 12 released poll results showing likely voters in favor of legalization by an 11-point margin, with 52% backing the measure.
But don't confuse the gap with a shift in the electorate. As the Oregonian explains, the new survey "has a sample showing that 70% of the electorate will be aged 51 or older." By contrast, the poll showing 52% in favor supposes that just 58% of voters will be "45 or older."
Simply stated, the more weight given to young voters' preferences, the more likely Measure 91 is to succeed.
"Support goes down as age goes up," said Stuart Elway, the pollster who found just 44% in favor of legalization.
DHM Research pollster John Horvick, who set the model for the first survey, agrees, pointing to the initiative's overwhelming support with younger voters.
"For example, 18- to 34-year-olds, 70% plan to vote for Measure 91 for legalization," he told Oregon Public Broadcasting. "Sixty-eight percent of independents plan to. Now those are all groups who are the least likely to show up come Election Day. So if the marijuana campaign is able to get those voters out, it looks like it could pass, it'll be close, a squeaker."
Two polls, one very similar story. If Oregon is going to legalize marijuana, it will need dedicated young voters to turn out and bring their friends with them.