Kansas Will Send Republican Pat Roberts Back to Washington — Again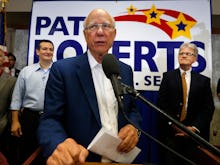 Kansas Republican Sen. Pat Roberts hung onto his Senate seat, defeating independent challenger Greg Orman, according to Associated Press projections. 
The two had been neck and neck through late summer, with Orman pulling ahead in a number of late polls. By the beginning of October, Orman had surged ahead, prompting the arrival of a Republican cavalry — stars like Texas Sen. Ted Cruz and Wisconsin Rep. Paul Ryan among them — to stump for the stumbling Roberts.
A Republican win was believed to be crucial in order for the party to gain control of the Senate, which left the GOP begging Kansas "'not to screw it up for the rest of the country,'" the Washington Post reported.
As Roberts fought to keep his seat, he focused his attacks on Orman's alleged allegiance to the Democrats, who pulled their candidate out of the race to aid the independent.
Roberts, meanwhile, was painted as a politician who had fallen out of touch with his state after spending decades in Washington. Heading into the final days, though, the Roberts camp was confident that he'd secured the conservative votes crucial to his win.
The candidates ran a close race right up until Election Day, with almost polls showing close to a dead heat. The Bing Predictions model's final forecast backed that up, giving Roberts a slim margin right in line with the likely eventual results:
Democratic dreams of keeping control of the Senate were dashed well before the Associated Press confirmed Roberts's re-election. But the Republican's clear victory — many had predicted the vote count to go late into the night — was reflective of the rest of the country, which delivered a swift end to Democratic rule in Washington.