6 Important Questions That the Midterm Election Results Will Answer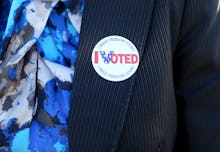 Tonight's election results will tell us a lot more about the future of the country than just which party will control the Senate.
The way young people, women and Latinos vote Tuesday could reveal a lot about what we can expect in 2016. Moreover, if Republicans can seize control of the Senate while outperforming in states that President Barack Obama won in 2008 or 2012, it could be a sign that the party is making inroads with voters they'll need to win over in the future.
But there are still big questions about how voters will decide Tuesday's elections, and why they chose the path that they did. Exit poll data of voters and demographic information about the electorate should provide some of those answers.
Here are the six questions that we expect to have an answer to after all the votes are cast and the ballots are counted, and how those answers will shape both the next two years and the years to come:
1. How will young people vote? 
Young voters historically turn out in low numbers to midterm elections, and the polls don't predict it will be any different this year. Millennials have been unenthusiastic about midterms, and a survey by Harvard's Institute of Politics found that just 26% of millennial voters definitely plan to vote. Even more surprising, those likely voters said they preferred a Republican-controlled Senate, a stark shift of attitudes from 2010:
Young people are paying close attention to politics, and there is plenty of data that shows that millennials are "politically engaged and civically conscious." But they do tend to sit out the midterms. By Wednesday we'll know whether young voters continue their opting-out streak or if they'll show up to cast their vote. If they show up, they'll be making a stamp on history and hopefully the election.
2. How much progress have Republicans made with women?
Republicans have long struggled to appeal to women. Even in Iowa, where Republican Joni Ernst is running for Senate, women are hesitating to vote for the party. This race says a lot about how women view the Republican Party. 
The GOP been working change that perception and to combat their "War on Women" image. Tuesday's results will show whether the GOP has made any progress in softening that reputation. If they haven't, it doesn't bode well for their presidential prospects. But if they have, that means they'll be cutting into Democratic constituencies in 2016.
3. Who do voters trust most on key issues, Democrats or Republicans?
Polls taken this election season revealed that voters trusted Republicans more on every key issue except for health care. A study by the Pew Research Center just two weeks before the election found that voters thought the GOP could "do a better job than Democrats" on handling the economy, terrorism and the budget deficit. But even though Republicans beat Democrats on the issues, Democrats still had a more favorable image in voters' eyes. 
Tuesday's results will reveal whether the image or the issues matter more to voters. If the Republicans can overcome their negative image, they'll likely be able to do so again in 2016. If Democrats can cling onto their lead in traits such as "honesty," "empathy" and "a willingness to compromise," that will help them rebuild momentum before 2016.
4. How did immigration affect the vote?
Ahead of the elections, Democrats maintained their wide lead over Republicans on Hispanic votes. However, that share of votes has declined since 2010. 
Obama's decision to delay action on immigration until after elections might have alienated some of the party's Hispanic voters, although the Pew Research Center survey also found that 54% of registered Hispanic voters said that "a candidate's position on immigration is not a deal-breaker in determining their vote."
We'll have a clear answer after the election as to whether Obama's immigration inaction helped or hurt Democrats. Although Hispanics likely won't be shifting their alliances to Republicans anytime soon, their declining support could spell out the Democrat's loss of the Senate. If the Democrats keep the favor of their dependable Hispanic voter base, it can only help them out in races that are sure to be tight.
5. Was Obama a drag on Democratic candidates?
Democrats have been avoiding Obama's name like the plague this election season: Take Kentucky Senate candidate Alison Lundergan Grimes, who refused to even say whether she voted for the president in 2008 and 2012. Candidates are worried that the president's low approval ratings will cast a shadow on their campaign simply by association.
There's a good chance their assumption is true. The president's favorability has remained low in six of the key Senate races throughout the election. If Democrats lose the Senate, that will likely be the nail in Obama's coffin.
6. Can Republicans outperform in swing states?
If Republicans can win big states in contentious Senate races, the wins will be a sign of things to come in 2016. Tuesday's results will offer a glimpse of where states stand politically, as well as an indication of whether that state might go red or blue come 2016.
If Republicans pull out wins in key states as polls predict they will, that will suggest that the party is making progress with key groups of voters (i.e., minorities and women) that they'll need on their side to win in 2016. If Republicans win but by less than the polls have been predicting, that means they still have work ahead to gain ground with the voters they'll need on their side for a victory in 2016.
The great thing about elections is that we'll have answers to all these and more after voters go to the polls. Make sure you get out and vote.