Here's Where Things Stand in the Most Important Midterm Races in the Country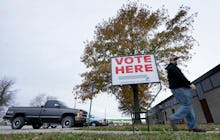 And we're off!
After months of campaigning, polls are open across the country. At stake: control of the U.S. Senate, a number of high-impact ballot initiatives (weed!) and a pair of governor's races could have a big impact on the 2016 presidential election.
Here's where five of the closest and most important contests stand, and why the results matter beyond Election Day:
Kansas
If he can pull it out, independent challenger Greg Orman would be the first non-Republican senator from Kansas since 1932. Incumbent GOP Sen. Pat Roberts trails Orman by less than a point in the final pre-election RealClearPolitics poll of polls.
Orman has yet to reveal which party he would caucus with in Washington if he wins, though he suggested during a rare national appearance on CNN Tuesday morning that he could switch sides on a case-by-case basis. Which sounds nice, but will not happen: The Democrats need Orman to win if they have any chance of keeping a majority in the Senate.
Polls in Kansas close at 7 p.m. Central and Mountain time.
North Carolina
The most expensive race in Senate history will also be one of the closest of this midterm cycle. 
After the candidates and outside groups combined to spend more than $100 million for this single seat, incumbent Democrat Sen. Kay Hagan and the challenger, North Carolina state Speaker Thom Tillis, are separated by less than 1%. 
A victory for Tillis — the polls close at 7:30 p.m. Eastern time — could make Tuesday a drama-light, glory-heavy night for Senate Republicans.
New Hampshire
That New Hampshire even makes this list shows how dire this election cycle has been for Democrats. A popular former governor and incumbent senator, Jeanne Shaheen, like Hagan in North Carolina and Orman in Kansas, has just a nominal lead over Republican Scott Brown.
Shaheen has attacked Brown, the former senator from Massachusetts, for spending more time in the state as a candidate than a resident. The Boston Globe put a finer point on it, writing that "Brown's real home, on and off for the past five years, has been the campaign trail."
And yet, with the polls now open — they close at 8 p.m. Eastern time — the outcome remains in serious doubt. If Brown does manage to unseat Shaheen, the rest is noise. Senate Republicans will have locked up their majority.
Florida
The governor's race is the one to watch in the Sunshine State, now that their medical marijuana bill has been crushed by a raft of outside spending by opposition groups led by gambling billionaire Republican Sheldon Adelson. 
Here's the quick recap: Former Republican Gov. Charlie Crist, now a Democrat, is running to unseat incumbent Republican Gov. Rick Scott. Scott's administration has, by all accounts (outside the Scott camp), been a train wreck. But this is Florida, and the challenger is a political turncoat.   
Also, "this is Florida," so with the candidates separated by less than .5%, don't expect a definitive result by Tuesday night. Polls in the eastern part of the state close at 7 p.m. Eastern time; the rest, mostly in the western Panhandle, an hour later. The counting (and recounting?) will go on much longer.
Wisconsin
Republican Gov. Scott Walker's successful push to kill almost all collective bargaining rights for public workers earned him a 2012 recall election, which he won with 53% of the vote, one point better than his tally when first elected in 2010. Walker also led the charge on new voter ID laws for Wisconsin, but the Supreme Court put those on hold until after this election.
Now, Democrat Mary Burke could be on the verge of a significant upset — the recall win made Walker a national conservative star and a "presidential contender" — with the most recent polling showing Walker with a small and eroding lead. A win for Burke, which a month ago seemed near-impossible, would really shake up how state governments consider issues like Voter ID.
Polls close in Wisconsin at 8 p.m. Central time. 
Oregon
Three states and the District of Columbia are voting on ballot initiatives to legalize marijuana for recreational or medical purposes today. The closest race is in Oregon, where conflicting poll data yields just one clear takeaway: If 18- to 34-year-olds turn out to vote, the campaign to end marijuana prohibition in the state will score a big win. If not, flip a coin.
(D.C. will legalize possession but not sales. Alaska will vote no on full legalization. And medical marijuana is dead in Florida.)
Polls in Oregon close at 8 p.m. Pacific time.
This is where some of Election Day's most important and closest races stand right now. Now that you know what's at stake, spread the word and get out to the polls to make your voice heard.