The Lena Dunham Controversy Isn't About Sexual Abuse — It's About Sexual Exploration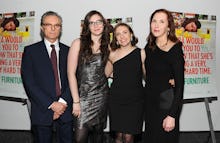 Lena Dunham's sister Grace took to Twitter on Monday to respond to critics accusing the Girls creator of sexually abusing her.
In three pointed tweets, Grace Dunham exposes what she feels is the incomplete logic employed by many of these critics, especially the conservative and unabashedly heteronormative standpoint from which they have declared what is "normal" and what is perverse. She notes that's it's important that all people have the freedom to narrate their own lives according to how they experience and live them:
The original allegations first came to light on conservative blogsTruth Revolt and the National Review. In both posts, Lena Dunham is accused of sexually abusing Grace as a young child, based on passages in Dunham's memoir Not That Kind of Girl that apparently had not raised flags with earlier readers.
While superficially shocking to many, much of the coverage of the controversy has failed to examine its context. Dunham has long been reviled by conservative columnists. "National Review hates Lena Dunham because ... well, to be completely honest, I'm not actually sure why. But by God, they want you to know they hate Lena Dunham," the Washington Post's Tim Herrera wrote in October.
Viewed through this lens, it's not impossible to believe the coverage might conceal an ulterior motive: a desire to shut down a powerful young woman who is making provocative art through her writing and television and who is rallying others around the politics of feminism. 
Then there's the issue of Grace Dunham's own sexuality. The conservative right has a long history of trying for years to rationalize minority sexualities by asserting some kind of sexual trauma underlies the "perversity." The younger Dunham, a lesbian, alludes to this problematic narrative is her tweets. 
Not surprisingly, Lena Dunham was furious about the allegations, responding on Twitter as well as in an statement published by Time magazine: "Childhood sexual abuse is a life-shattering event for so many, and I have been vocal about the rights of survivors," she wrote. "If the situations described in my book have been painful or triggering for people to read, I am sorry, as that was never my intention. I am also aware that the comic use of the term "sexual predator" was insensitive, and I'm sorry for that as well."
The controversy has ignited something of a firestorm online and on social media, where many critics — including feminist advocates — have connected using the hashtag #DropDunham. But she isn't without supporters, as well. The Tumblr Those Kinds of Girls offers stories of how "We all did weird sexual shit when we were kids" in support of her statement.
Clearly, there are many people who take issue with aspects of Lena Dunham's politics and public persona, but these recent allegations are not the logical jumping-off point for unleashing a diatribe against her, especially as they have been repeatedly refuted by actual experts. Psychologists largely agree with the fact that, as Sam Rubenstein, a psychotherapist who specializes in childhood abuse, told Gawker, Dunham's self-reported sexual curiosity does not appear to be born out of aggressive or violent behavior. "I think that's a natural part of development and curiosity," Rubenstein said. "There's no sense of control or shame or harm [in Dunham's writing]. It would be really hard to construe it that way."
The takeaway is this: Sexual abuse is very different from sexual exploration. At the same time, Grace Dunham's publicly stated perspective cannot and should not be erased, especially in order to use a narrative to fit a specific bias. So what's this scandal really about? Is it an attempt to right an injustice unsupported by fact or personal recollection? Or rather, is this just one more example of the criticism so many girls encounter for openly having, exploring and loving bodies, including their own.