The Latest Pro-Putin Art Show Is Just as Ridiculous as You'd Expect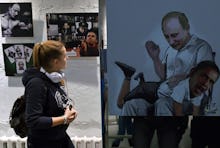 The news: As strange as it might seem, this isn't some weird Vladimir Putin social/parody/art experiment. No, you're looking at a legitimate example of the Russian president's cult of a personality yet again erasing his abysmal human rights record.
As New York Magazine reports, the youth wing of Putin's United Russia party launched the exhibit, titled "No Filters," on Friday as a way to showcase Putin's courageous face-offs with foreign adversaries.
While this was surely strange, Russia has a bit of a recent history of deifying Putin, including the president's birthday present in early October — a one-day art exhibition titled "12 Labors of Vladimir Putin" that depicted Putin in a variety of absurdly heroic situations like fighting a hydra, carrying the world and wrestling a bull.
While the West has had fun meme-ifying Putin, millions of Russians still revere their president and are more than ready to heap lavish praise on him despite the country's sanctioned LGBT abuse and discrimination, alleged extrajudicial killings and belligerence toward Ukraine.
And while it's alright to laugh at these over-the-top pictures, we should remember Putin isn't a comedic figure — he's a tyrant, and there's nothing funny about that.