If You Love Lorde, You Need to Check Out This Amazing 17-Year-Old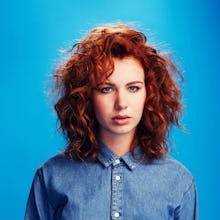 If you haven't heard of Grace Mitchell, that's probably because she's only 17 years old.
You may have heard her music, though. This fiery, red-headed 17-year-old from Portland, Oregon, was completely unknown before last winter. Then her cover of Hall & Oates' "Maneater" was featured on the soundtrack for the 2013 film The Secret Life of Walter Mitty. The cover piqued the interest of music lovers everywhere, and for good reason.
Mitchell is young with a forceful, dark voice. She perfectly captures the ominous pop sound Lorde is known for, and the two are peers. The difference, though, is that while everyone knows Lorde, nobody knows anything about Mitchell: Her Facebook and Twitter accounts launched this past summer in advance of her first EP, and there's barely any information about her online.
But even with only five songs released, it's already clear: Grace Mitchell is the next big thing in pop. It's only a matter of time before she gets there. 
"I'm very inspired by music from the 90s and contemporary pop," Mitchell said in a recent interview with Mic. "But I grew up in a small town where country, folk, and bluegrass was played a lot. The storyteller aspect of that music is incorporated into my own music. And my songwriting. I've listened to a lot of really powerful female lady figures of the 90s: Alanis Morisett, Tori Amos, and others for songwriting and sound. Right now I now I listen to a lot of contemporary indie, hip-hop like Drake and Tupac and Nas."
In fact, she's been writing ever since she was 8 when she wrote her first song which, she admits, "wasn't very good." "I really enjoyed writing little songs and coming up with melodies," Mitchell said. "But I've been writing pretty much ever since then." 
She's been writing music for more than half her life, then, but her music sounds like it was written by someone twice her age. She strikes the same slow-burning, indie pop sounds as Lana Del Rey and British musician Jessie Ware. And Mitchell's age isn't hindering her from pursuing her creative ambitions, either.
"I think anyone can create at any age, and I feel like there isn't really anything specific age limit for creativity. I'm lucky enough to have really supportive parents who are letting me pursue this." 
Based on her first EP, released Oct. 13, Mitchell has a talent her parents would be foolish to ignore. She worked with producer Morgan Taylor Reid to solidify the four songs on it. Each one is a bit of indie pop brilliance that combines teenage emotions with the wisdom and perspective of a far older speaker.
Standout track "Broken Over You," for instance, is a simple romantic ode of the sort you might write in high school, if you were an insanely talented songwriter trapped in a younger girl's body. Mitchell sings, "Tell me how you feel when you see me / Does it feel real in the right way?" It's by far the most haunting of the four songs. Starting small with a pulsating electronic backdrop, "Broken Over You" builds to a lush combination of lyrics and subtle crescendo.
"It's about chaotic feelings and the overwhelming feelings you get when you are in love, and what it's like to find clarity and harmony in falling in love as well and grappling with that overanalytical aspect of my character," she explained.
It's deep but relatable songs like "Broken Over You" that make Mitchell's music accessible to every kind of listener. And she's starting to find her audience. Already, her songs have racked up over 500,000 plays on SoundCloud. Last week she opened for St. Lucia, and she reports that she's in the process of making a full-length album. If her EP is any indication, it won't be long before she rises to the top of the pop music world.