The Secret Behind the News About Beyoncé's Brand New 'Surprise Album'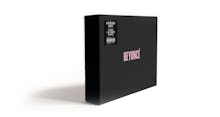 PR Newswire
Beyoncé's surprise release last year was so revolutionary it almost stopped fans' hearts. When a tracklist for an unknown album by the Queen leaked Monday, the freakout began once again.
The BeyHive (Beyoncé's sometimes-radical fan collective) rapidly tried to figure out if the tracklist was real. And though many expected Beyoncé Vol. 2, today the truth is out: A press release from Columbia Records reveals that Bey will release a four-disc "platinum edition" of Beyoncé. It will contain two new songs and four new remixes and a live concert DVD.
Recommence freaking out.
The news is exciting if only because it reveals two abiding truths of the music industry: Beyoncé fans are the most committed people on the planet, and everyone is a Beyoncé fan. When a screenshot of a proposed tracklist for a self-titled Beyoncé Vol. 2 reportedly leaked online Saturday, fans freaking lost it. The most dedicated started picking apart every little detail. They exposed it for a hoax, noting that the release date read "Monday, November 25," when the 25th is a Tuesday this year. 
But even further digging revealed that one of the songs on the tracklist — "DONK," featuring Nicki Minaj — has been registered with the American Society of Composers, Authors and Publishers. The man who created the original "release confirmation" has admitted it is a hoax. But the fandom and new music is exceedingly real.
The fact that people are still getting this hyped up about potential Beyoncé releases further reveals how important of a moment her last album was. In an era when most album releases go unremarked, publications are still running think pieces on the implications of Beyoncé's self-titled a year after its release. Only Monday, Pop Matters ran yet another, called "This Is How It's Gonna Be Now." 
A year on, with another Beyoncé release around the corner, that seems to be the case.