This 102-Year-Old Woman Has the Only Election Day Story You Need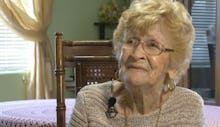 If you read one story on Election Day, make it Guadalupe Portillo's.
The 102-year-old California resident became an American citizen last year and will cast her vote in a national election for the first time in her life Tuesday.
"It's never too late," she told NBC Los Angeles. Portillo was born in Mexico and moved to the United States in the 1980s. She didn't have the chance to become a citizen at the time, but later worked even after retirement as a legal resident until achieving citizenship.
After voting in her state's primaries over the summer, Portillo was struck by the power of such a simple action. "I was so emotional," she said. "It was a feeling I had never felt before."
She wants to set an example: Latino Americans are a powerful voting bloc. Roughly 25.2 million can vote in the 2014 midterm elections, which is 11% of the eligible voting population. This is the greatest number of potential Hispanic voters in American history. In past elections, however, they've lagged behind other groups in voter turnout.
According to the Pew Research Center, Hispanic voters cast 6.6 million ballots in the 2010 midterm election. That 31.2% turnout rate was a record, but it still fell far below turnout rates among black and white voters of 44% and 49% respectively. It's part of a larger trend, too, as Hispanic midterm turnout has generally declined from 38% in 1986.
One issue that both Portillo and other Hispanic voters are concerned with is immigration, and given the numerous defeats it has incurred recently, turnout may suffer. "There's a sense from some people that there's nowhere to turn, and I'm afraid they're just going to be frozen in frustration," Lisa Duran, executive director of Rights for All People, told the New York Times. "It's absolutely imperative that we not let that happen."
Portillo, however, isn't interested in whatever is keeping Hispanic voters away from the polls. "Here I am at my age still fighting, and you won't even vote?" she said.
She's fighting the good fight. The United States isn't known for having a particularly enthusiastic voting public, especially when compared with other established democracies. Couple this with an even steeper drop during midterm elections, not to mention myriad problems with voting itself, and Tuesday's elections may not be the best demonstration of democracy in action.
But that's precisely why stories like Portillo's matter so much. Against the odds — her age, her demographic and her voting history — she's still making her voice heard. "My lone vote doesn't matter" is a common refrain among Americans, but what happens when millions think that way?
"I may be old, but I'm one more voice," Portillo said. We'd all do well to listen.