10 Painfully Awkward Photos of Politicians Trying to Act Normal on Election Day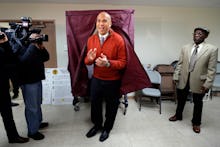 Who wants to see politicians doing weird stuff on Election Day?
Short answer: Everyone!
Some of America's highest-profile candidates and elected leaders fanned out across the country Tuesday to meet voters — and ran into an impressive array of odd and uncomfortable exchanges. Others, like New Jersey Gov. Chris Christie (not on the ballot) just looked kind of lonely.
Here are a few that really stood out in the crowd.
Butt governor ...
Democratic Missouri Gov. Jay Nixon's social media team had one job. Posting an image of him voting next to someone's exposed behind was not it. The tweet has been deleted, so enjoy our screencap:
Just a regular guy.
New Jersey Gov. Chris Christie scans the room for someone to yell at. Alas, quiet.
Shake on it?
Or not? Predicting politics can be a fool's errand, but we feel real comfortable guessing that Republican Ed Gillespie, running (poorly) for Senate in Virginia, did not get these folks' votes:
Mitch is the McMan, bro.
After some nervous moments along the way, Sen. Mitch McConnell (R-Ky.) is poised to win re-election and become majority leader in the Senate next year. But, rise as he may, he will never forget his fave frat boys. They certainly didn't forget him.
The carpetbagging captain.
Minnesota seems like an awful long trip for a Caribbean-based pirate, but there he is, Jack Sparrow on the ballot in Minneapolis. (Note: The nearest body of water, Lake Superior, is a 2.5-hour drive away. So lots of questions here.)
Can you feel the excitement?!
Sir, can you? Sir? Sen. Cory Booker (D-N.J.) is romping to re-election and LOVING IT. The gentleman to his left is less impressed.
Sen. Mary Landrieu, Booker's Democratic colleague from Louisiana, might be in for a tough night, but at least she knows how to get people smiling when she sprints triumphantly from the voting booth.
Encouraging others to break the law.
No one's going to jail — we think — but Illinois Republican Rep. Aaron Schock didn't do this supporter much of a favor by retweeting an illegal "ballot selfie." On the other hand, this is a New York ballot and Schock represents Illinois' 18th district. So ... why not?
Watch your hands, pal.
Iowa Democrat Bruce Braley gets handsy with the signage at last-minute meeting with supporters and the man he hopes to replace, retiring Sen. Tom Harkin. 
Approval rating: 0%
Barring a big upset, McConnell is going to be re-elected and lead the new Republican majority in the Senate. But we can safely say there is at least one Kentuckian not in McConnell's corner.
Politicians, they're just like us. Except their most awkward and uncomfortable moments are captured by photographers, professional and otherwise, and posted to social media and sites like this.