Wendy Davis May Lose Tuesday, But She Won the Internet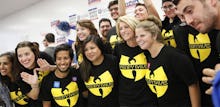 Wendy Davis is trying to bring da ruckus, bring da motherfuckin' ruckus, one campaign shirt at a time.
The latest polls show the state senator trailing far behind her opponent Greg Abbott in Texas governor race, but the Lone Star State candidate has at least one advantage: her election day gear. 
As the tweets show, Davis paid a visit to Tarrant County, Texas — home to her native city of Fort Worth — and was presented with some pretty clever shirts that played off the Wu-Tang Clan's infamous logo.
For the uninitiated: The shirts are a play on the logo of the Wu-Tang Clan, the New York City-based hip-hop group. The back reads "Wendy Davis is for the Children," which is an homage of sorts to the time that late Wu-Tang Clan member Ol' Dirty Bastard rushed the stage at the 1998 Grammy Awards and uttered the line, "Wu-Tang is for the children."
While Davis' supporters and most of the Twittersphere found the move amusing, others were less enthused.
Davis may not have much of a chance at the polls, but at least she has a sense of humor. She's faced a huge uphill battle throughout her campaign — remember when Erick Erickson called her an Abortion Barbie? — but she's still chugging along.
We can hear her thinking, "Votes rules everything around me" from here.