The Head of the NSA May Have Made Money Spying on You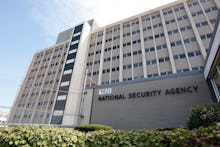 The news: The former head of the National Security Agency might have been gathering a little more than just your personal information. According to new information, Gen. Keith Alexander's portfolio during his time as head of the spy agency included investments in companies that the NSA was directly involved in monitoring
This isn't just a disturbing conflict of interest. The financial disclosures suggest that Alexander may have used his position at the center of America's intelligence apparatus for personal gain.
Whoa! Go on ... The Daily Beast's Shane Harris reports that Alexander had problematic investments in at least two companies linked to NSA operations. In 2008, Alexander "bought and sold tens of thousands of dollars in stock" with a little-known company called Synchronoss Technologies Inc., which specializes in technology enabling the activation and synchronization of mobile devices. Synchronoss had a "sweetheart deal" with AT&T, meaning that Alexander's stock portfolio could benefit every time one of the company's phones was activated using Synchronoss technology.
It's no longer a secret that the agency secretly installed expensive and extensive surveillance technology to spy on the telecommunications industry after the Sept. 11 terrorist attacks. But as Harris reports, AT&T was an especially big NSA target because it "owns and operates a huge portion of the United States mobile, landline and Internet infrastructure."
Harris also writes that Alexander had questionable investments in "Aluminum Corporation of China Ltd., also known as Chinalco, a state-owned enterprise based in Beijing that's now the second-largest producer of aluminum in the world." The general sold his stake in the company shortly before news broke that Chinese military spies were hacking into Alcoa — knowledge that he, as head of the NSA, was almost certainly privy to before the general public.
All the while, the NSA continued to insist that Alexander's investments were a matter of national security, only releasing the documents after Vice's Jason Leopold sued them. TechDirt's Tim Cushing reports that America's top spy also invested in surveillance company Pericom Semiconductor, data-gathering firm, and high-performance radio technology manufacturer RF Micro Devices. Writing for Foreign Policy, Harris adds that after leaving the NSA, Alexander arranged a "highly unusual" part-time job at his new cybersecurity consultancy for NSA chief technical officer Patrick Dowd while Dowd was still on the NSA payroll.
Why you should care: While Alexander either made a pittance or lost money on most of the stocks, the issue raises serious questions about whether those responsible for overseeing the country's intelligence apparatus were always operating in the name of "national security," as they frequently claim.
A government ethics officer reviewed the investment and found no conflict of interest, but the process wasn't publicly documented.
Concerns about Alexander's ethics have even reached the halls of Congress. Earlier this year, Rep. Alan Grayson wrote to industry trade group Securities Industry and Financial Markets Association, asking it to investigate just how the general was able to charge it "between $600,000 and $1,000,000 a month" for consulting services, a figure so large it raises concerns he was selling classified information. 
It's possible that the Bush administration's NSA director not only oversaw one of the biggest expansions of America's security state, but invested in it. Even if this is much ado about nothing, Cushing argues that the NSA's willingness to fight transparency to the bitter end is anathema in a democratic society.
Who watches the watchmen? Certainly not themselves.