Kendrick Lamar's Latest Music Video Is the Most Uplifting Thing You'll Watch All Day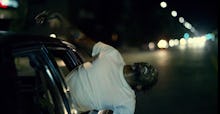 Kendrick Lamar just released the video for his latest single, "i," and it's unbelievably uplifting.
The song is amazing — an upbeat, soulful number that samples the Isley Brothers' 1973 hit "That Lady." Lamar originally released the soulful track last month and received a bit of flak from his fanbase, who thought it was "too poppy," relying on a sample "too familiar to intrigue." But the video is the perfect representation of just how empowering this song is. Lamar knew exactly what he was doing — he even knew "i" would draw these kinds of critiques and spoke to them in a recent interview.
"I think from jump, the classifications of music is totally twisted because now we have a generation where you take an Isley Brother's sample, which is soul, and now people consider it pop. And I knew that would come of course, but me as a leader in music, I want to revamp that whole thing and put it back to its original origins. And not be scared to step out and say this is not that, this is black and this is soul."
The video owns this idea. Its soul roots are present throughout — Ron Isley makes a cameo — and Lamar's choreography is nothing short of inspirational. Dancing through the city with some old-school moves, Lamar stops one man from killing himself and distracts police officers from arresting another. He leads them all to an epic dance party under a bridge before riding off into the night, elated.
It's uplifting, reverent and life affirming — all the things Lamar intended it to be.