What the NASCAR Brawl Exposes About Race and Sports in America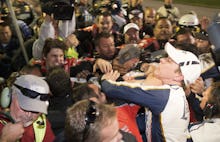 There's a clear double standard on display when America talks about sports, no more so than after NASCAR's AAA Texas 500 race Sunday in Forth Worth.
After the race, drivers Jeff Gordon and Brad Keselowski threw down in fisticuffs because Gordon believed that Keselowski's aggressive driving caused him to crash.
The altercation, which left a reporter right in the middle of it, resulted in both drivers being bloodied.
The fight got a lot of attention, and not because people were condemning their actions: For the Win mentioned that this fight, along with many others, happened as a result of NASCAR's new playoff format.
Despite instigating this entire ruckus, both Gordon and Kaselowski went completely unpunished for their roles.
While fights and shoving matches might be expected in the heat of competition, that explanation would never fly for the NBA or NFL, which have a majority of black players. ESPN analyst Bomani Jones went on to call out that discrepancy on Twitter:
Compare Sunday's fallout to early 2014, when Seattle Seahawks cornerback Richard Sherman received backlash for his emphatic post-game interview after the NFC Championship game.
Even though his amazing play helped advance his team to the Super Bowl, he was called a "thug" and worse in high-profile outlets.
As Grantland saw it, some people kept using the fact that he was a Stanford graduate as a "disarming tactic," to show that he wasn't a "thug." Their point, essentially, was to say that Sherman was "one of the good ones." What if Sherman didn't go to Stanford? What if he had gone to a historically black college? What if he left school before graduating? Would Sherman still be a thug?
Sherman expressed his thoughts about the word "thug" and its common deployment against blacks. "The only reason it bothers me is because it seems like it's the accepted way of calling somebody the N-word nowadays," he told a press conference.
Language has been employed for years to "other" minority ethnic groups. How Richard Sherman was treated is no different.
But don't expect for these NASCAR drivers, a sport whose fans and drivers are predominantly white, to be called thugs, no matter how many fights they get into. If only all athletes, regardless of race, were viewed in such a manner.