These 16 Photos Prove That Music Really Can Change American Politics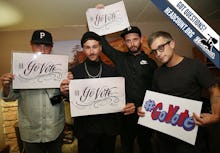 If you've spent any time with social media at all Tuesday, you've likely seen at least one of the photos.
If you followed Jeff Tweedy from Wilco, you would have seen him registering his son 18-year-old Spencer, encouraging others to do the same alongside the most American man in America, Nick Offerman.
If you followed RZA from the Wu-Tang Clan you would have seen him doing the same between promotions for the new Wu-Tang single. 
That's because it's Election Day in America and a young organization called HeadCount has organized 315 of the country's biggest stars in an effort to bring out the vote. And while it's easy to roll your eyes when a pop star tells you to vote, the 2014 election is proving — now more than ever — that musicians really can influence elections in an important way. 
Youth voter turnout is disturbingly low, while the attention youths pay to music is quite high. Only half of our country's 18- to 29-year-olds voted in the last election. Over 60% of youths report that they listen to music every single day; another 37% do so now and then. Listening to music is the most popular activity in the teenage demographic, with the average teenage listener clocking at least 2 hours a day.
Musicians, then, are a key way to engage the young voters our country needs to bring in a functional government. HeadCount is running a blockbuster social media campaign reaching more than 350 million followers. These 16 photos, then, reveal one fundamental truth about politics in 2014: Young people matter now more than ever, and it takes real creativity to engage a whole generation. It takes music.
Lauryn Hill
"The incumbent Congress is the least popular in history, so we can't leave it to the candidates alone to inspire people," said Marc Brownstein, HeadCount's co-founder and bass player of The Disco Biscuits. 
T.I.
Chanel West Coast
"We're trying to get the message across that being dissatisfied is a bad reason not to vote — it's the exact reason why participation is so important."
SOJA
Band of Horses
Portugal. The Man
Music has always been a means to political participation, but this year it became a viable logistical tool as well. HeadCount reports that they registered more than 25,000 voters through the 705 live music events they hosted. 
The Glitch Mob
Cut Copy
Grouplove
Chance the Rapper
Esperanza Spalding
Russell Simmons
"Millennials have the potential to be the largest voting bloc in our country but are voting at a fraction of their size, with an estimated 30 million young people staying home in 2012," Rock the Vote asserts. We will need to make full use of our numbers if we want to change this country.
Stalley
Niykee Heaton
So retweet, share and above all else, get out and #GoVote.