Republican David Perdue Wins Georgia Senate Race, Avoiding Run-Off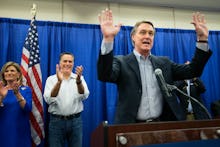 Republican David Perdue has won the open Senate seat in Georgia, defeating Democrat Michelle Nunn in one of the most sharply contested Senate races of 2014. The Associated Press called the race for Perdue, who needed "50% plus one vote" to avoid a Jan. 6 run-off, at 11:05 p.m.
Victory for the GOP in Georgia, where Republican Sen. Saxby Chambliss is retiring, pushes them one seat closer to a seemingly inevitable return to control in the Senate.
This was Perdue's first major political race and his first win. He is the former CEO of Reebok and Dollar General stores. That business experience was the driving force of his campaign — the Atlanta Journal-Constitution described his reputation as that of "a turnaround specialist who helps revive brands and reap rewards for investors."
Like Nunn — who is the daughter of Georgia's former Democratic Sen. Sam Nunn — Perdue has politics in his blood. First cousin Sonny Perdue served two terms as governor.
This race had been nearly impossible to nail down. But the latest polls showed Perdue with a 2- to 3-point advantage and, per our Bing Predictions model, an 93.1% chance of claiming the seat by Election Day:
Perdue's outright win — many had prepared for neither candidate to exceed 50% of the vote and another mini-campaign before the run-off — means this could be an early night for Senate watchers. Republicans needed a net gain of six seats to return to the majority and with a political gaffe-prone novice like Perdue romping, they are just one win away from making it official.