Big Boo's Takedown of a Homophobic Subway Preacher Deserves a Standing Ovation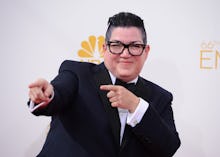 Subway preachers may be part of the scenery in New York City, but that doesn't mean everybody is content to let them spout their nonsense in peace.
Enter Lea DeLaria, who plays Big Boo on the Netflix series Orange is the New Black. On Tuesday morning, DeLaria was riding the subway when one such preacher began reciting a hate-filled speech against Sodom and Gomorrah, sin, homosexuality and liberalness.
Dressed in a "Bad Jew" T-shirt and carrying a "God Hates Bags" tote, DeLaria can be heard telling the preacher, "You don't own the Bible!" She also lead the other passengers in a sing-along of "99 Bottles of Beer on the Wall" in order to drown out his speech. 
"You are the reason America's in trouble," she told him. "This is not Sodom and Gomorrah!" She also alleged that he called her a homophobic slur, though that can't be heard in the video. She added that she was perfectly happy to ride the train all the way to Queens (where it was headed) with him, if only to stop him from saying anything else. 
A tipster told Gothamist that "A lot of people were standing around taking videos and photos and watching. I think people weren't sure whether it was real or staged. But a friend later confirmed that she has seen this same man preaching similar things on the subway before, so I'm pretty sure it was real." 
Later in the day, DeLaria addressed the incident on Twitter: 
Like the woman who called out the pervert who exposed himself on the subway, DeLaria took a very public stance against something deeply offensive and harmful. She's definitely not the first person to take a bigot like this to task, but her high profile likely means that more will see it.
h/t Gothamist