A Florida City Just Arrested This 90-Year-Old for the Crime of Feeding the Homeless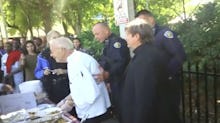 The news: In Fort Lauderdale, Florida, being homeless is basically a crime — and you can get in big trouble for showing some compassion toward society's least fortunate.
Regulations passed in the city last month made it basically impossible for charitable groups to feed the homeless without complying with an onerous set of regulations designed to shut them down forever.
They're already being enforced: KHON reports that for the terrible act of feeding the city's homeless, Fort Lauderdale authorities have charged two ministers and 90-year-old local man Arnold Abbott with offenses that could result in about two months of jail time and a $500 fine.
"One of police officers came over and said, 'Drop that plate right now,' as if I was carrying a weapon," Abbott told KHON. "It's man's inhumanity to man."
What's happening: Amid all-night protests, the Los Angeles Times reports, Fort Lauderdale commissioners approved regulations forcing charitable operations that feed the city's homeless population to comply with stringent standards on the morning of Oct. 22. The new rules require any group distributing food indoors to stay 500 feet from other sites. The commissioners imposed even stricter rules on outdoor sites, which now have to operate 500 feet from any residential business, seek the permission of property owners, and provide portable toilets.
Abbott told Fox News that the rules more or less made it impossible for him to distribute food to some of the city's estimated 10,000 homeless residents. "I have tried to abide by their regulations, but we just are not able to provide a porta-potty," he said. "I believe that is the job of the municipality, anyway."
"Cities' hope is that restricting sharing of food will somehow make [the] homeless disappear and go away," National Coalition for the Homeless community organizing director Michael Stoops told NPR's The Salt. "But I can promise you that even if these ordinances are adopted, it's not going to get rid of homelessness."
While Fort Lauderdale has been quick to paint the new laws as intended to protect the homeless by directing them to stabler services, other proponents of the law were more blunt. Prominent backer Cal Deal told the New Times Broward-Palm Beach that he thought keeping the homeless hungry would force them to pull up their bootstraps and work harder. 
"The people feeding them are enablers, and they enable the homeless by making their lives easier," Deal said. "Hunger is a big motivator. Are people more likely to seek help when they're hungry or when they're fed and happy?"
National homelessness expert Robert Marbut told NBC that handing out food on the street is "bad," but called the law criminalizing it a "gimmick" designed to ignore the complex realities of homelessness. Actually dealing with Fort Lauderdale's homeless problem would require a lot of time, resources and effort, so the city instead chose to punish people for misguided compassion.
Why you should care: A recent report by the National Coalition for the Homeless says that 21 cities have passed measures trying to crack down on operations that feed the homeless and destitute since January 2012. But even without the anti-feeding law, Fort Lauderdale has done much to make the homeless' lives miserable. Earlier this year, the commission made it illegal for homeless people to store their possessions in public and made going to the bathroom in public punishable by 60 days in jail, rules the Sun-Sentinel writes were pushed by local businesses.
For his part, Abbott, who previously sued and won over previous regulations in 1999, isn't backing down. "I'm going to have to go to court court again to sue the city of Fort Lauderdale, the beautiful city," he told KHON. "These are the poorest of the poor. They have nothing. Don't have a roof over their head, and who could turn them away?"