Tim Scott Just Became the First Black Senator Elected in the South Since Reconstruction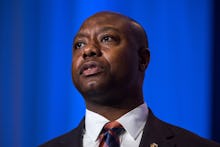 South Carolina just made history: Tim Scott has become the first African-American candidate to be elected to the U.S. Senate in the South since the end of the Civil War.
Scott is already a senator — he was appointed by South Carolina Gov. Nikki Haley in 2012 to replace Sen. Jim DeMint when he retired from Congress to head a conservative think tank in Washington.
Scott is one of two African-Americans currently in the Senate and the first black Republican to serve in the upper chamber since the 1970s. He is the fifth African-American to to be elected to the Senate ever.
While this is not going to change the Republican Party's enormous problems attracting nonwhite voters, it won't hurt them in their struggle to develop a more broadly appealing brand. Of course, a better tactic than occasionally attracting a politician of color to join their ranks is probably to make their policies more inclusive or end their campaign to make it harder for minorities to vote. Check out Mic's coverage of how the GOP's war on voting could swing the election.