What Marvel's 'Black Panther' Superhero Movie Really Says About America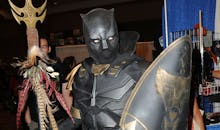 The Earth didn't shift on its axis last week, so it's safe to assume most people missed the news that Marvel is releasing a Black Panther movie in 2017. According to the Hollywood Reporter, the iconic superhero will be played by Chadwick Boseman, best known for his roles as Jackie Robinson in 42 and James Brown in Get On Up.
The film is slated for a Nov. 3, 2017 release. This is no minor event: When it comes out, Black Panther will represent the first time Marvel Studios — the most prolific comic book movie producer in the U.S. — has released a live-action theatrical feature starring a black hero (Blade, based on the Marvel comic and starring Wesley Snipes, was produced by New Line Cinema.)
This move speaks volumes about the overwhelming whiteness of an industry whose output is consumed by an increasingly multiracial audience. Of course, comic and media consumers have always been a diverse group, but the absence of non-white, LGBT or female main characters has been a special point of contention in recent years.
When T'Challa, king of the fictional African nation of Wakanda, made his 1966 Black Panther debut — mere months before the real-life Black Panther Party for Self-Defense was established in Oakland, California, according to Slate — he was the first black character to get his own series with the company. 
Yet despite nationwide demographic shifts and a few watershed moments for black representation in American film, he's walked a remarkably lonely road ever since.
To illustrate: In the 48 years that followed, Marvel heroes ranging from the Fantastic Four and Spider-Man to Iron Man and multiple members of the Avengers crew have all starred in their own movies. The Black Panther, conspicuously, has not, in spite of a few halting attempts to do so (as Racialicious' Arturo R. García wrote, Marvel co-president Louis D'Esposito once remarked that portraying T'Challa's fictional African homeland would be "difficult" — all while plans to produce Guardians of the Galaxy, which is set in space and stars a talking raccoon and a tree, were well underway).
So here we are today — Boseman, the Black Panther and an eagerly waiting fan base. Here are seven reasons why the Black Panther film is Marvel's best idea in years.
There's definitely an audience for it.
Here's the reception Boseman received when Robert Downey, Jr. and Chris Evans introduced him as the Black Panther last week, according to Racialicious:
It's a small sample, but people clearly are excited for Black Panther to finally happen.
It imagines an Africa that doesn't conform to media stereotypes.
Hollywood tends to portray African countries as indistinguishable from one another, part of a monolithic, war-torn whole fraught with famine, corruption, poverty and usually rendered through the eyes of a white outsider.
That's not Wakanda: The fictional nation over which T'Challa presides is a unique and "isolationist" sovereign state that houses "some of the world's most advanced technology," Slate reports. And T'Challa will tell its story.
T'Challa joins an exciting club of new heroes of color.
Cindy Moon, aka Silk — Spider-Man's Asian-American female counterpart. Kamala Khan, the first Muslim female Ms. Marvel. Captain America as a black man. These are just three recent attempts on Marvel's part to shift gears and finally "reflect the growing diversity of its readers," according to Al-Jazeera. The Black Panther can be seen as a cinematic manifestation of this pattern. It's about time.
More work for black actors.
Countless critics have rightly bemoaned the lack of opportunity for black performers — not to mention directors, writers, producers and other "behind-the-scenes" types — in Hollywood.
Rendering Wakanda presents a clear opportunity to give this underutilized group of artists an opportunity to showcase their skills. If by some miracle Marvel manages to portray even a fictional African nation without employing a healthy number of black actors, Hollywood will have reached a remarkable new low.
It's part of an exciting expansion of the Marvel universe.
Solo film aside, the Black Panther will first appear in 2016's Captain America: Civil War, according to Comic Book Resources. He'll join an exciting spate of upcoming hero introductions, including Dr. Strange, Inhumans, Ant Man and a number of Avengers, Thor and Captain America sequels. And that's only the next four years.
Franchise opportunities.
It would be great news on its own if the Black Panther just appeared in his own solo film in 2017. But it gets better: Deadline reports that Boseman signed a five-picture deal playing the character, meaning there'll be at least a few more to come.
Diversity means money.
Earlier this year, UCLA's Ralph J. Bunche Center for African American Studies published a comprehensive report on diversity in TV and film. Researchers found, in complete opposition to conventional Hollywood wisdom, that racially diverse TV shows are actually rated higher than white-dominated programs, while films with comparatively high onscreen minority involvement grossed about $90 million more at the box office than those with low onscreen involvement in 2011.
A similar pattern is reflected in the recent success of ABC's new slate of diverse TV shows, which drives the point that viewers respond to diversity with both their passion and their wallets. It's high time Hollywood understood this and makes it a cornerstone of decision-making moving forward.
It's an exciting time to be a superhero movie fan. The year 2017 can't come soon enough.