Early Exit Polls Show Just How Much Obama's Unpopularity Hurt Democrats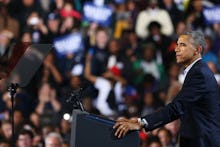 President Barack Obama is a drag on Democratic candidates in the midterm elections.
Early exit polls show that half of voters disapprove of Obama's job performance. Unfortunately for Democrats running for office, voters' disapproval of the president also extends to them. One-third of voters said that their congressional vote was based on their disdain for the president.
Furthermore, not many voted for Democratic candidates based on their approval of Obama. Only 1 in 5 voters said their vote was an endorsement of the president — even further evidence of America's negative perception of the president.
This dissatisfaction parallels Obama's numbers reported by Gallup prior to the election, as reflected in the graph below:
The negativity likely stems from voters' remaining upset over the economy, which many say has remained stagnant or gotten worse since Obama took office. The exit polls also revealed only 1 in 5 trust the government and voters were twice as likely to have pessimistic rather than an optimistic outlook on the future.
As polls predicted ahead of Election Day, Obama's unpopularity may indeed spell doom for Democrats as they try to cling to their control of the Senate.